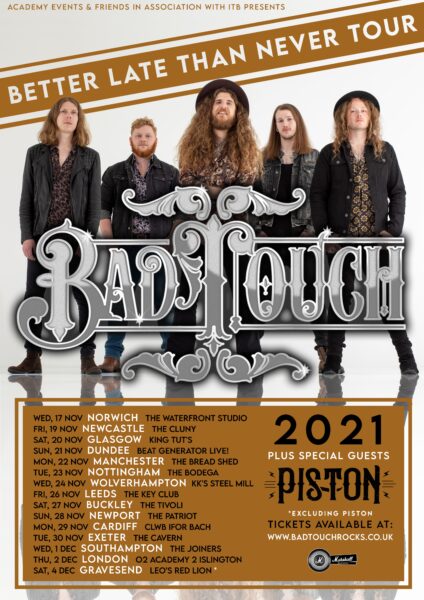 Bad Touch seem to also have a magic touch as they once more delve into their musical archives and release another single prior to their November/December 2021 tour, aptly titled the 'Better Late Than Never Tour'.
This time they cover what I think is their hardest song to date, the 1971 release of 'Midnight Rider' by The Allman Brothers Band. The country vibe of the original has been captured with aplomb as the guitars crunch and ring like a bell for a heavy but not enough to overshadow its soul, point proven by the honeydripping lead vocal and laid back guitar solo midway.
Purchase links to the single, tour dates are here along with other band info :- https://found.ee/badtouch_midnightrider I https://badtouchrocks.co.uk/gigs-tours/ I https://badtouchrocks.co.uk/ I https://www.facebook.com/badtouchrocks I https://twitter.com/badtouchrocksuk I https://www.instagram.com/accounts/login/ I https://www.youtube.com/user/badtouchrocksTVhttps://www.youtube.com/user/badtouchrocksTV
Bad Touch band line up :-
Stevie Westwood – Lead Vocals.
Rob Glendinning – Guitar.
Michael Bailey – Bass Guitar.
George Drewry – Drums.
Daniel 'Seeks' Seekings – Guitar
Another blast from the past from Bad Touch sees them put their rip roaring stamp on 'Midnight Rider'.