Ayron Jones with support from Amongst Liars, The Deaf Institute 08 11 22
Amongst Liars
Introducing themselves from Eastbourne, the Southern quartet brings their hard-edged alt-rock vibe. Formed in 2020, Amongst Liars has six singles and a self-titled album.
Opening as they mean to go on in a fury of guitar, pummelling drums and deep throbbing basslines. The sound is reinvigorating, old vs new with gritty emotional vocals.
For some reason singer, Ian George reminds me of 'Barney' Greenway, not for his vocals but by his stage antics and the way he weaves across it, like he's lost, as he stares up to the ceiling looking for guidance; if you've seen Naplam Death you'll know what I mean.
Amongst Liars are a 'goody-bag' of tunes veering from the sweet undertones of goth and post-punk, think The Cult and Siouxie Sioux on the romper Cut It. The ballsy baselines from Towner make this song stand out off their debut album.
I think the crowd likes what they are getting so far, especially the fans wearing their Amongst Liars tees with pride, who know all the words and every one of the band's moves.  With a tip-toe melding pop intro that bursts into an explosion All Over Now has a Rival Sons feel, it's rock and roll with plenty of 'whoa's' and punchy drums.  
Romping towards the end of their set, they up the power-play with the anthemic Burn The Vision and close with the dynamic Wolf Machine.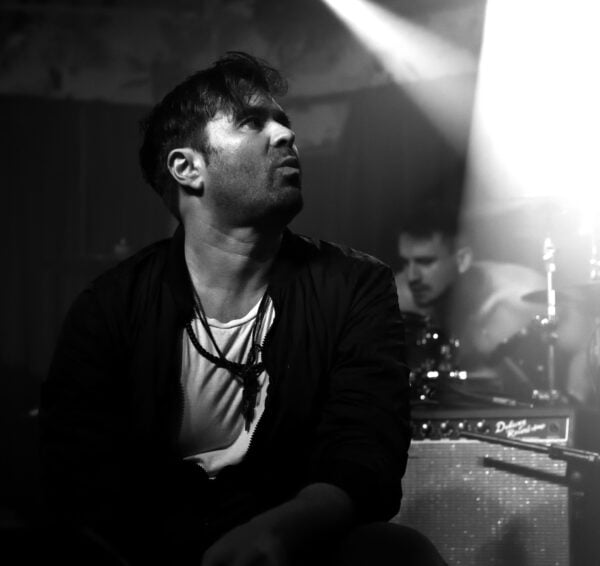 Amongst Liars: Ian George (vocals), Leo Burdett (guitar), Adam Oarton (drums) and Ross Towner (bass).
Amongst Liars Setlist – Black Days – Over and Over – Reign – All Over Now – Cut It – Burn the Vision -Wolf Machine
Amongst Liars on Facebook, Instagram and Twitter
Ayron Jones
From Washington, the chief of Seattle, Ayron Jones makes his debut at The Deaf Institute this evening. The hotly-tipped new rising star has opened for Guns N'Roses and The Rolling Stones and is making quite the mark with his explosive music, which blends elements of grunge, rock, hip-hop and blues.
Not a stranger to the UK, Ayron and his band played Download Festival earlier this year, opening up on the second stage.
 A resonating bass line introduces the aptly named Boys From the Puget Sound the band breaks into life, and the beat is hard and heavy as Ayron Jones' soulful voice booms 'here come the boys.'  
Speaking in a quiet low tone, Ayron explains he has a sore throat, from touring one country to another. Tonight is the penultimate show of his five UK dates and lucky for us Jones tells the crowd 'no' 'he didn't want to cancel tonight's show. You can feel the sigh of relief in the room.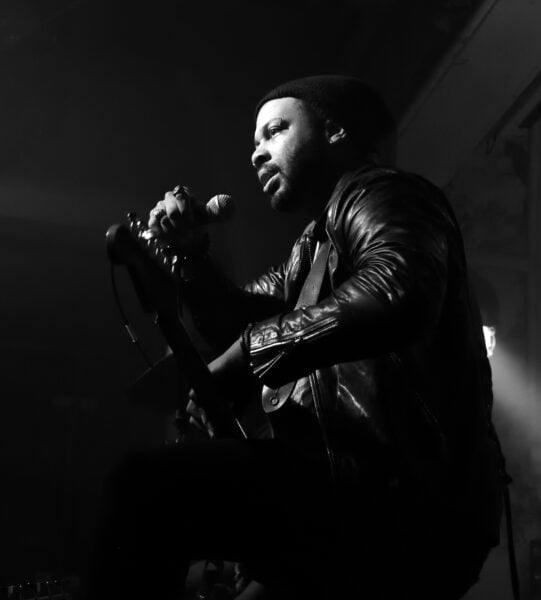 The Lenny Kravitz-flavoured Supercharged ignites the crowd but fire comes from their cover of Nirvana's devilish post-punk-grunge number Breed. Leading into a band jam. Bob Lovelace has to be one of the most animated-badass-bassists I've seen, wielding his bass, and doing high jumps. The audience shows their appreciation with a massive cheer and a round of applause.
"Turn this f**ker up and get filthy"
"Turn this f**ker up and get filthy" and we do, as the breathy 'ha-ha, ha-ha's kick in from Jones, we get the uncensored version of his latest single release Filthy, with its hard-hitting lyrics.
Ayron might be lacking a little in a voice but he saves it for where it is needed. There's a good balance among his 14-song setlist, as he plays all of his third album Child of The State. The more melodic rocking songs are evenly paced through the set: Spinning Circles and Free to the big moving ballad of Take Your Time, where the guitar riffing solos do the talking.

From Matthew Jacquette's brilliant guitar skills, getting out his flying V to showcase his one-handed playing to Ayron procuring a drumstick off Bobbi 'Big Sexy' Jimmi for a weighty band jam. It's not Lips of Anvil with his vibrator, playing the guitar but it's versatile and we are impressed by Jones' showmanship. Especially, the triple-big-gun guitar/bass salute shooting back at the crowd!
Take Me Away is the song that turned my attention to Jones. The simple riff intro beats like a pulse, paired with Jones's venomous vocal attack, and high-octane guitar. Big Sexy brings the blitzkrieg drum beat as the song's pace upsurges! Boom! It's great to hear it live tonight, as they blend it with Jimi Hendricks's Hey Joe.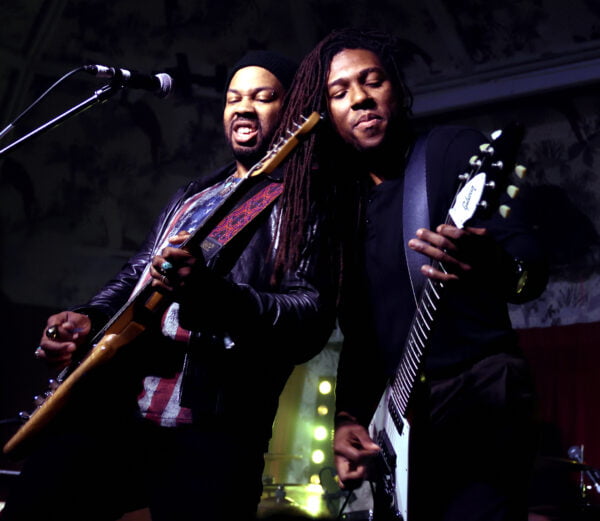 Ayron thanks his audience and support band Amongst Liars. In return, the audience praises him back with rapturous applause. Pay attention to the return of Ayron Jones, because I'm sure it won't be his last venture to the UK.
Setlist: Boys From the Puget Sound – Emily – Supercharged – Breed (Nirvana cover) – On Two Feet I Stand – Filthy – Spinning Circles – Free – Take Your Time – Baptised in Muddy Waters – Mercy – Take Me Away with elements of Hey Joe (Jimi Hendrix) – Hot Friends
Ayron Jones band – Vocals/guitar- Ayron Jones,  Bass – Bob Lovelace,  Drums Bobbi 'Big Sexy' Jimmi –  Guitar – Matthew Jacquette.
Ayron Jones links– https://www.ayronjonesmusic.com/
INSTAGRAM– FACEBOOK – TWITTER– TIKTOK– YOUTUBE – SPOTIFY– APPLE MUSIC –AMAZON MUSIC
Words and photos by Alex English
More photos here – https://flic.kr/s/aHBqjAf2kq