Ryan McCombs is set for a very special solo UK tour that promises to deliver a breathtaking catalogue of songs, old and new, with the power and voraciousness only he can deliver.
From the classic SOiL albums Scars, Redefine, and Whole, to prime selections from his tenure in Drowning Pool and more, McCombs has seen it all and will present a truly remarkable set of tracks in live venues this November and December.
Known for his dynamism and powerful vocal aggression, the forthcoming tour will see Ryan and his new UK band strip back fan favourite songs to create a truly "in the moment" acoustic event that can only be experienced in person.
"I didn't want to just walk on stage and play these songs ON acoustic instruments", says McCombs. "It was important for me that the songs be stripped down and rebuilt – almost re-imagined. There are some lyrics within these past tracks that have always been very important to me. Very much a part of me and, though I love the music that originally gave them life, they come from a place in me that isn't necessarily so aggressive. I wanted to be able to express that and to share it with others that have loved these tracks over the years."
With Ryan and the band ready to hit the stage this November, be prepared to witness a brand new acoustic set that's up close and personal. This time they'll be delivering not only their own takes on some of Ryan's material but also sharing new songs including tributes and even some fresh songs written by this new band line-up – all of it broken down, raw and "Stripped Bare".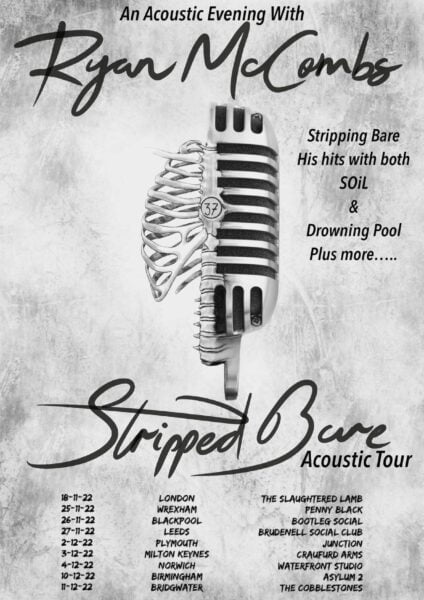 TOUR DATES:
18 Nov – LONDON – The Slaughtered Lamb
25 Nov – WREXHAM – Penny Black
26 Nov – BLACKPOOL – Bootleg Social
27 Nov – LEEDS – Brudenell Social Club
02 Dec – PLYMOUTH – Junction
03 Dec – MILTON KEYNES – Craufurd Arms
04 Dec – NORWICH – Waterfront Studio
10 Dec – BIRMINGHAM – Asylum 2
11 Dec – BRIDGWATER – The Cobblestones
LINE UP:
Ryan McCombs – Vocals
Freddie Thomas – Guitar
Martin Camp – Bass
Ellie Daymond – Drums
CONNECT WITH RYAN McCOMBS:
Facebook – https://www.facebook.com/OfficialRyanMcCombs
Instagram – https://www.instagram.com/ryanmccombs37/