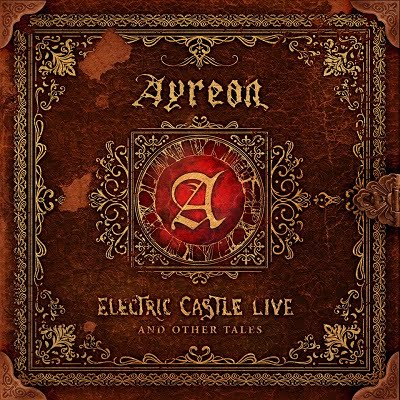 Last year Ayreon played their second set of shows. The first was their first live shows in the existence of the band, and they played several sold out shows in Tilburg entitled "Ayreon universe". This time it was "Electric castle live and other tales". As the title suggests, it was to feature the entire "Into the Electric castle" album in full plus a selection of other songs, and it was once again held at 013 in Tilburg. This time though they didn't just take over the venue for a few days of sold out shows, the entire town was taken over by Ayreon with an art exhibition featuring album artwork, the local brewery doing a special Ayreon beer, bars doing special offers such as an "Ayreon burger", and posters all round town. Every hotel for miles was full with fans who travelled from all over the world, and with good reason, an Ayreon show features an incredible cast of musicians – in this case including 8 lead singers and many other musicians….
Fish (ex-Marillion),
Anneke van Giersbergen (VUUR, ex-The Gathering)
Damian Wilson (Threshold)
Thijs van Leer (Focus)
Ed Warby (Ayreon)
Edward Reekers (ex-Kayak)
Edwin Balogh,
George Oosthoek (Mayan, ex-Orphanage)
Simone Simons (Epica)
Mark Jansen (Mayan, Epica)
John Jaycee Cuijpers (Praying Mantis)
Marcela Bovio (Mayan, ex-Stream of passion)
Dianne van Giersbergen (Ex Libris)
Johan van Stratum (VUUR)
Joost van den Broek
Marcel Singor (Kayak)
Ferry Duijsens (VUUR)
Bob Wijtsma (Ex Libris)
Ben Mathot
I reviewed one of the shows for Planetmosh last year – https://planetmosh.com/ayreon-013-tilburg-13th-september-2019/ and knowing that the shows were recorded and filmed I've been waiting for the release. When pre-orders started there were so many fans trying to order that the record label's web store was overloaded for many hours.
So how does the release stack up? There are multiple different versions including CD/DVD, Bluray, vinyl and an impressive box set. This review is only based on the CDs.
The sound quality is excellent which is no surprise as Ayreon's last live release was top quality too. The mix is perfect and you can hear everything clearly from lead vocals, to backing vocals, bass, guitar, drums – everything.
The show featured the "Into the electric castle" with almost the same lineup of musicians as on the original album, then once that was over they moved onto the "other tales" section of the show which threw us a curveball by not being Ayreon songs. Instead it was all songs from Arjen Lucassen's other projects such as Ambeon, Guilt machine and his solo albums. I say all, but actually it was all except one – we also got a Marillion song, their hit "Kayleigh" which was a real treat to hear Fish singing.
The live shows were fantastic and it looks like the CD/DVD/Blurays will be just as good.
"Electric castle live and other tales" will be released on 27th March 2020
Track listing:
Disc 1:
1. Welcome to the New Dimension
2. Isis and Osiris
3. Amazing Flight
4. Time Beyond Time
5. The Decision Tree
6. Tunnel of Light
7. Across the Rainbow Bridge
8. The Garden of Emotions
9. Valley of the Queens
10. The Castle Hall
11. Tower of Hope
12. Cosmic Fusion
Disc 2:
1. Robby Valentine
2. The Mirror Maze
3. Evil Devolution
4. The Two Gates
5. Forever of the Stars
6. Another Time, Another Space
7. Shores of India
8. Ashes
9. Out in the Real World
10. Twisted Coil
11. Kayleigh
12. Pink Beatles in a Purple Zeppelin
13. Songs of the Oceans
The live shows were fantastic and it looks like the CD/DVD/Blurays will be just as good.