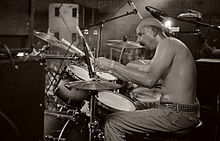 I recently had the opportunity to ask Chris Reifert,frontman and drummer with Autopsy a few questions about the band and their new album The Headless Ritual.
Throughout your career you have remained with Peaceville Records. I assume they are happy with you and vice versa.
Yeah, 25 years later here we are still. It's interesting since we joined forces with Peaceville when they and ourselves were both getting started, so we sort of grew up together, ya know?
You must be pleased with the cover art for the Headless Ritual. Joe seems to have pulled out all the stops to make it as brutal as the music.
Fuckin' A right….Joe killed it with that one. He really put some extra juice into that piece and it shows. We love it and it fits the atmosphere of the music perfectly. It's the place where the Headless Rituals happen.
The album is yet another classic in over 25 years. The hunger must still be there to make your trademark gore drenched death metal.
Must be. We certainly wouldn't be doing this if our hearts weren't into it. There's no crazy fame or fortune at the end of the death metal rainbow, so you'd bloody well believe in what you do and have a great time doing it.
How are the new songs going down with the fans on your current US tour?
Well, we've only been doing a few gigs here on the west coast in the US, but the couple of new ones we've been doing have been going over killer. They blend in the set with everything else nicely and folks are digging it, so no complaints here.
Two of my favourite songs on the album are Slaughter At Beast House and She Is A Funeral,both over 6 minutes long. Were they originally meant to be that long or as result of jamming in the studio?
That's just the way they were written. We don't really jam on songs….they are structured quite rigidly and when they're being written, whoever's writing the song just knows when the song should come to an end. Glad you like the tunes!
When Autopsy 1st started playing,who were your influences and at the other end of the time scale,what new bands impress you?
We listened to Death, Slayer, Repulsion, Master, Black Sabbath, Witchfinder General, Pentagram, St. Vitus, Candlemass, Frank Zappa, Robin Trower, Alice Cooper, Cream, Mahogany Rush, and more. Nowadays, we listen to tons of things but the blueprint has been established so we don't really get influenced by other bands anymore. We have our vision and we basically stick with it.
Have you any plans on any UK dates in 2013?
It doesn't look like we'll make it over there this year, but next year could be a different story. Let's see what happens…..