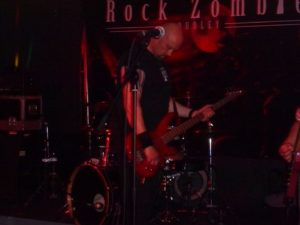 My first live encounter with Warlord UK was on a 9 band bill called the Full Thrash Assault at the Snooty Fox in Wakefield a few months ago and their mix of brutal death metal with precision speed metal riffing was a real ear and eye opener, so when i had the chance for a second chance to see them it was a no brainer.
This time the gig was at Rock Zombie,a relatively new venue in Dudley. Warlord UK were the third band on after Lazarene,Necrotize and the headliners for the evening were  Shrapnel. Once again Warlord UK delivered big time which is no surprise as they were formed in 1996 so have plenty of roadwork behind them. As well as headline tours they have supported the likes of Obituary,Napalm Death,Entombed to name but a few. Due to running times Warlord only had time for 6 songs and opened  with Maximum Carnage from the album of the same name and also a very apt for name for the songs delivery as they set their stall out immediately with a barrage of riffs and blastbeats. This was followed by a new number called Masses Gather In Masses, a heads down warp speed tune from their forthcoming album We Die As One,to be released via Flying V Records in August. Alien Dictator,another crusher from the Maximum Carnage album was followed by another newie the apocalyptic Strength Defeats Decay with the bottom end rumble from the bass guitar of frontman Mark White threatening to shift the Earth off its axis.
Mark's stage presence and vocal delivery makes  him similar to a UK version of Morbid Angel's frontman David Vincent,a point proven by another new song,Strength Defeats Decay with a truly lung busting vocal.Theatre Of Destruction,another track from Maximum Carnage was the appetizer prior to the last song,a cover of Slayer's Raining Blood with stand in drummer Neil Hutton seeming to play it even faster than Dave Lombardo. A fitting end to a killer set and a fitting tribute to the sadly departed Slayer guitarist Jeff Hanneman.
A fantastic evening of metal for a good cause was marred by a very poor turnout. The members of the bands outnumbered the audience. 4 bands for £5 was an absolute bargain!
Setlist :-
Maximum Carnage.
Masses Gather In Masses.
Alien Dictator.
Strength Defeats Decay.
Theatre Of Destruction.
Raining Blood.
Warlord UK band line up :-
Mark White – Vocals/Bass guitar.
Kev Bartlett  – Drums (drummer for Rock Zombie gig was Neil Hutton).
Brooksie – Guitars.
Gaz Thomas – Guitars.
I award Warlord UK's set 9.5/10.