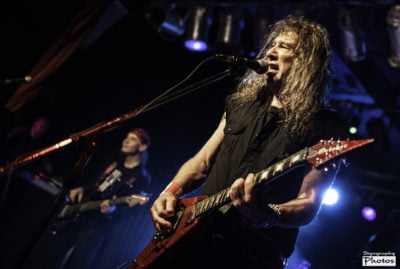 I've been to many Anvil gigs since 1982, playing at festivals, support slots and as headliners. There has never been a bad one, some stand out more than others and another addition to the latter is the Buckley Tivoli gig last night. A pre gig interview with frontman Steve 'Lips' Kudlow on their tour bus saw him answering my questions about songs from current album Legal At Last like a proud father.
Showtime arrived and from the off Lips and bass guitarist Chris Robertson seemed more animated than usual, especially Chris with his hilarious facial expressions as well as delivering impressive backing vocals. Set opener (as it has been for the last few tours) saw Lips straight in the crowd with that ever present grin crank out the riffs and solos for the instrumental 'March Of The Crabs' and the smiles from the crowd reflected his bonhomie. Lips partner in crime, (since they began playing music together in 1973) Robb Reiner showed why he is a revered drummer as his double bass work shook the foundations for a gargantuan '666'. The more catchy 'Ooh Baby' was a nice return to their 1981 debut album Hard And Heavy with Lips proclaiming "I'm 64 going on 46".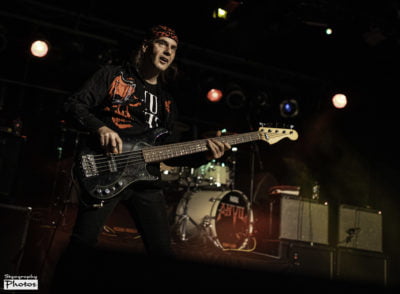 The new album was represented early by the title track, a future classic in the making, showing off the bands speed of sound metal prowess of slashing riffs, booming bass and metronomic kick drumming, proving they still have plenty of power. Another newie saw 'Nabbed In Nebraska' take the pace down for some catchy metal featuring the first of many hilarious intros, the second of which came before a crowd fueled 'Badass Rock N Roll' as Lips asked "You like rock n roll?" and then regaled his introduction to rock and roll via Elvis Presley and some unprintable tales about Chuck Berry! Chris showed off his nimble but powerful style as he hammered a lengthy intro for a dizbusting 'Winged Assassins' from the Forged In Fire album as Lips said "From our third album, not our turd album".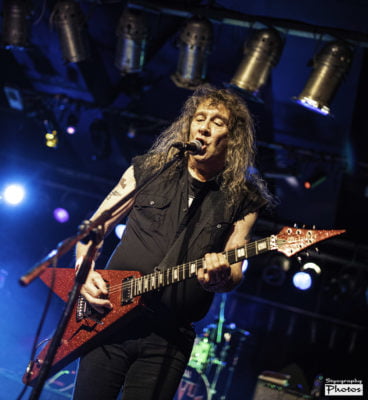 My first major highlight tonight came from 'Free As The Wind', a song whose lyrics define the lifestyle of heavy metal fans and their love of the music which he dedicated to "Lemmy and the boys". The guitar work was very Ted Nugent orientated as Lips riffed and soloed like the Motor City Madman in his prime and with one of his quotes that ended the song with "If it's too loud, your too old, get the hell out you've been told". There then followed a lengthy speech from when Anvil  supported Motorhead in Canada in 1982 and their 1983 UK tour, concentrating on the behaviour of then Motorhead guitarist Brian Robertson. A welcome return to the rarely played 'On Fire' preceded the aptly titled 'This Is Thirteen', an absolute monster with Lips soloing with aplomb throughout a lengthy glorious grind. The title fitted in with Lips intro of how their documentary got them back in the public eye with "The best part of it being I've not had to make any food deliveries for thirteen years".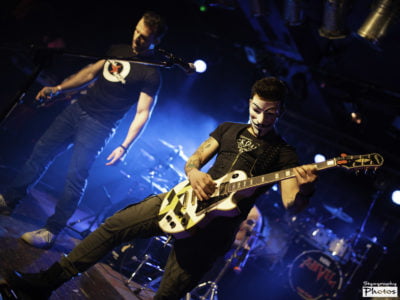 It'll be a cold day in hell if the band decide to drop 'Mothra' from the set. Stretched out from the studio take on their groundbreaking 1982 Metal On Metal album, Lips and Chris hammed it up to the max with some funny moves and Lips deafening guitar solo played with a vibrator. More catchy grooves came from the sat nav influenced 'Bitch In The Box' and then came the moment we had all been waiting for, Robb's drum solo. These were an 80's staple for most metal bands and then phased out but not for Anvil as they launched into the jazz tinged 'Swing Thing'. It's a mental instrumental as a brief musical duel from Lips and Chris saw them leave the stage for Robb to deliver a masterclass of power and precision, ending in deafening applause. Lips had the last word with "An unsung hero as he doesn't sing".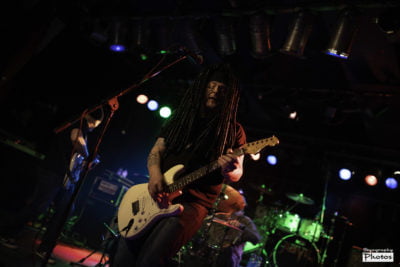 An anthem to end all anthems came from the timeless pound of 'Metal On Metal' with Lips orchestrating a crowd heavy chorus delivery. Time stood still as Lips looked at me whilst introducing 'I'm Alive' as "This is dedicated to my old friend Dennis as we share the same musical interests". It was another Nugent influenced piledriver that raced against time telling the story of loving life being in a band. 'Forged In Fire' saw the three metal warriors lock in tonight for a mesmerizing pummel as Lips clenched his fist to make the choruses of "Never break it, it will never bend. The anvil was forged in fire" more convincing and I've yet to hear another song with phosphorescence in! Another welcome blast from the past came from set closer, a turbocharged version of 'Running' from the Juggernaut Of Justice album. When it comes to heavy metal they have absolutely no alternative and are still going strong.
We were warmed up by two high energy support bands. Wolverhampton based Electus rattled the Tiv with an over the top display of schizophrenic rock and metal and their set ended far too soon. Just as mad were Ragdoll Sunday who hit the stage running and hardly stopped. The four piece wear a non stop ball of energy, especially the constantly moving lead vocalist Gaetano and the ducking and diving of guitarist Adonis Adrianos.
 Anvil set list :-
March Of The Crabs.
666.
'Ooh Baby'
Legal At Last.
Nabbed In Nebraska.
Badass Rock N Roll.
Winged Assassins.
Free As The Wind.
On fire.
This Is Thirteen.
Mothra.
Bitch In The Box.
Swing Thing.
I'm Alive.
Metal On Metal.
Forged In Fire.
Running.
A gig of epic proportions!