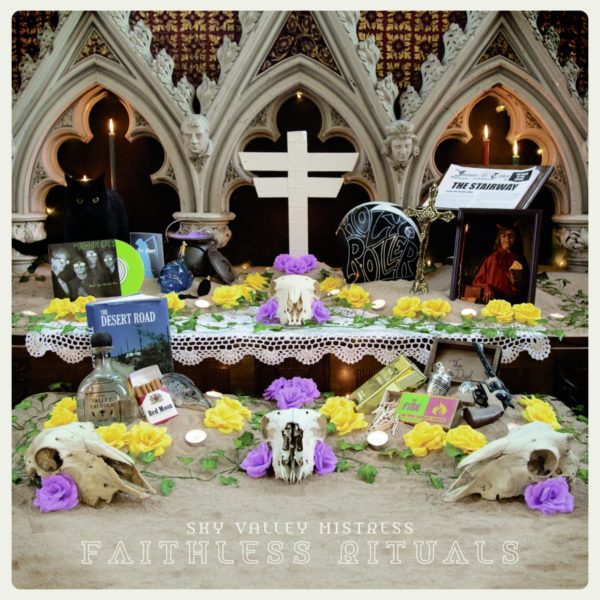 Sky Valley Mistress, one of the most exciting bands I've seen live over the last few years have finally finished their debut album Faithless Rituals which will be released on March 20th, 2020 via New Heavy Sounds/Cargo Records. The Blackburn based quartet have managed to create their live vibe in the studio which makes it a stone cold classic!
'A Faithless Ritual' is a short, creepy, spoken word intense piece that describes the effect it will have on the listener and does so very convincingly as we head into the hypnotic pound of 'You Got Nothin'. It's a gripping assault as a snarled lead vocal from Kayley "Hell Kitten" Davies adds an extra edge to it. The bombast is heavied up by powerful bass guitar lines as a bluesy midsection is the calm before the storm of a freak out outro.
'Lost In Shock' is more like being in the frontline  of an aftershock as I thought my headphones were going to explode from the seismic grooves that pull you in like aural quicksand. A feedback drenched piece builds momentum for a psychotic ending. 'Punk Song' is a six minute lumbering beast of epic proportions that stomps along on booming bass, snappy snare work and guitar squalls, topped off by a devilish vocal. 'It Won't Stop' has a jazzy feel that had me clicking my fingers throughout. A sultry vocal enhances the mood and it ends in a crushing rant.
'Skull And Pistons' is a full on headbanger driven by some powerful tribal drumming, making it one of their heaviest tracks. 'She Is So' is chock full of gargantuan grooves dropping to a brief whisper halfway until the mayhem returns with aplomb as it ends on a weird ambient outro. A crazy eleven minutes is just long enough for 'Blue Desert' to astound. An angelic vocal backed by noodling bass, sparse snares and gently picked guitar lines tease as it briefly comes to life five minutes in. The vocals pitch higher to a quiver as all hell breaks loose for a freaky jam that includes full on guitar frenzy. The album ends all too soon with 'Electric Church' as the jams are well and truly kicked out for this Sunday service! It hurtles along in true Motorhead style in a race to the finish line bluster that sees them pushing their instruments to the limit.
Faithless Rituals album track listing :-
A Faithless Ritual.
You Got Nothin'.
Lost In Shock.
Punk Song.
It Won't Stop.
Skull And Pistons.
She Is So.
Blue Desert.
Electric Church.
Sky Valley Mistress band line up :-
Kayley "Hell Kitten" Davies – Lead vocals.
Sean "Starsky" Berry – Guitar.
Maxwell Harvey William Newsome III – Drums.
Russell "Russell" Russell – Bass guitar.
The UK's answer to Kyuss mesmerize with their debut album Faithless Rituals.