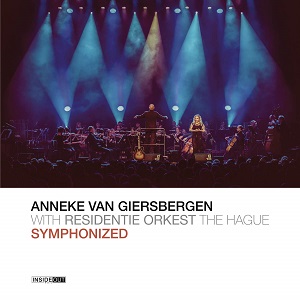 In May 2018, Dutch singer Anneke van Giersbergen performed two very special shows with an orchestra – Residentie Orkest The Hague. Since making her mark as the singer in The Gathering, Anneke van Gierbergen has been a very influential singer and is cited by singers suchas Nightwish's Floor Jansen as an inspiration. After leaving The Gathering she's had a successful solo career and has also worked with other musicians including Devin Townsend and Ayreon mastermind Arjen Lucassen. She's appeared on Ayreon albums and together with Arjen Lucassen wrote and recorded "The Gentle Storm", a concept album, and she then put a band together under the Gentle storm name to tour the album. Once the Gentle storm came to an end she formed her metal project, Vuur, with most of the members of The Gentle Storm joining Vuur. This all means that from her long career she's performed all sorts of music, and these special shows saw her perform songs from all those projects as well as some classical music.
Needless to say, the shows sold out extremely fast, so only a limited number of fans got to see them. Now though they're being released on CD, DVD etc for more people to enjoy.
As someone who was lucky enough to buy a ticket before they sold out, I attended and really enjoyed the show in The Hague – it was a surprisingly small venue although two levels of balconies meant that despite the intimate feel it probably held a few hundred people.
I knew Anneke had an amazing voice – some of the Gentle Storm songs really show her voice off, but it was some of the classical pieces that really showed just how good a singer she is. On this release only one of the classical pieces is included (of the other two played, one was purely played by the orchestra with no singing), but it's a stunning piece.
Of the rest of the set, I was confident the Gentle storm and Gathering songs would work well with the orchestra but was less sure about the Vuur songs – those are complex metal songs that when you hear the originals are hard to imagine with an orchestral arrangement but there's obviously been a lot of work done to make sure they were adapted well, and they really do sound fantastic.
The album sounds fantastic – it's really captured the shows well. The vocals are beautifully clear and the mix is one of the best I've heard for an album with an orchestra as the orchestra isnt just in the background – it's nice and loud but without overpowering the vocals, and feels like a partnership between Anneke van Giersbergen and the orchestra rather than an Anneke solo show with a backing orchestra.
A fantastic release.
"Symphonized" will be released on 16th November 2018
Track listing:
1. Feel Alive
2. Amity (originally released by The Gathering)
3. Your Glorious Light Will Shine – Helsinki (originally released by VUUR)
4. Two Souls (originally released by Lorrainville)
5. When I Am laid In Earth (aria by Henry Purcell)
6. Travel (originally released by The Gathering)
7. Zo Lief (unreleased song in Dutch)
8. You Will Never Change
9. Freedom – Rio (originally released by VUUR)
10. Forgotten (originally released by The Gathering)
11. Shores Of India (originally released by The Gentle Storm)