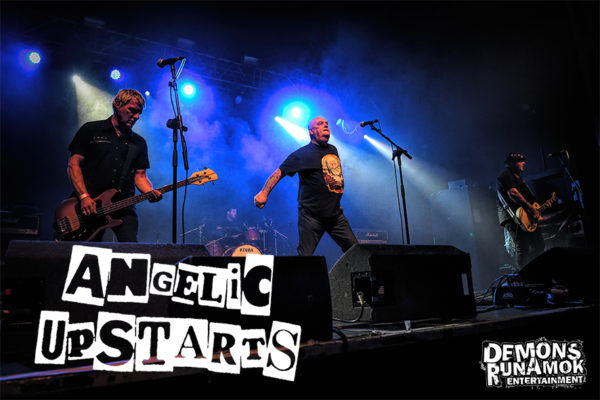 ANGELIC UPSTARTS signs to DEMONS RUN AMOK!
A dream is coming true!!!
With pride, joy and happiness we´re excited to announce the signing of a real UK Skinhead/Punk Legend!
Please welcome ANGELIC UPSTARTS to the ever growing Demons Run Amok Entertainment family!!
Angelic Upstarts formed in 1977 in South Shields, North-East England. Working class punk band with strong anti-fascist views and beliefs. Influenced by bands such as The Clash and The Sex Pistols, The Angelic Upstarts are a meeting of working class ideology and musical aspiration. Always liable to provoke reaction, with lyrics making much of their working class roots, and lashing out at police and politicians.
The original line up consisted of Mensi (vocals), Mond (guitar), Steve Forsten (bass) and Decca Wade (drums) and they launched their punk crusade with the independently released, AA single 'The Murder of Liddle Towers' and "Police Oppression" in 1978. The single was then picked up by Small Wonder Records who released it nationally. It's attack on police brutality earned them an early patron in Sham 69's Jimmy Pursey, who chased a similar constituency of disaffected working-class fans. The band then signed to Warner Brothers, Pursey producing the L.P. 'Teenage Warning' (1979). The band's wholehearted delivery coupled with their denunciation of racism – a particularly admirable stance at a time when other 'skinhead bands', were flirting with right wing elements – made the album a classic. With the UK hit singles, 'I'm an Upstart' and 'Teenage Warning' (both 1979), they focused on the plight of the working class.
The band went on to release a number of successful albums and hit singles and are still active to this day. The ANGELIC UPSTARTS line up today is
Mensi – Vocals
Neil 'Newts' Newton – Guitar
John Woodward – Bass
Andy Wilkinson – Drums
EXPECT A NEW RECORD IN 2020!
Tourdates:
30.08.2019 Niedergörsdorf Spirit Festival GER
31.08.2019 Augsburg Tattoo Messe GER
06.09.2019 Caramaga Piemonte Spazio Polivalente ITA + GRADE 2
12.09.2019 Kiel Schaubude GER
14.09.2019 Stockholm Punk Rock Weekend SWE
19.09.2019 Weinheim Café Central GER
20.09.2019 Gütersloh Alte Weberei GER
21.09.2019 Dusseldorf Ratinger Hof GER
28.09.2019 Hambur gMoin It's Hamburg GER