I have followed the band Afterlife for just about a year now, ever since I was impressed by their sounds and performance watching them live at The Classic Grand. One EP "Alpha", several live performances later, and having been holed up writing and recording by the picturesque Loch Fyne in Scotland over a period while making the album, Afterlife are now ready to unleash their full debut album "Omega" to us on 2nd December.
Afterlife kick things off with the explosive energetic sounds from opening track "Energy"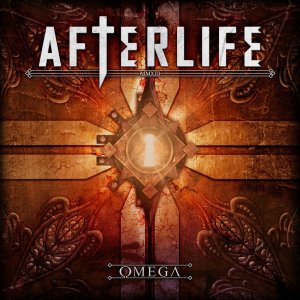 of which the video is shown below. Indeed there is some busy guitar riff work here right off which has to be said, compliments the grunge era of years ago. Third track "Way Back Home" slows things down a bit. This is quite a lovely ballad in its own right with slow, effortless dreamlike vocals coming from Pete McCoy. It is nothing different or new but just a really nice rock ballad with some nice simple effective guitar work during the solo. This is one which might catch you singing along to. The first song and video showcased by the band a couple of months ago "Lost" has a dirtier, darker, grungy rhythm, very reminiscent of Soundgarden's darker tracks. As much as there are the grunge elements throughout Omega, there is also an alternative feel in places, none more demonstrated than on the track "Cold". Another ballad "Follow Where I Go" slows it down again, which indeed is very anthemic as it goes along. For me this has a certain Smashing Pumpkins sound and feel to it, complete with subtle keys in the background. It is a really nice track and stands up well with a lot of the great rock ballads over the years. Another highlight is "What Do We Die For" which again, has some fantastic riff work, with guitarists Al Reilly and Stewart 'Raggy' Brown complimenting each other well throughout, and another strong anthemic chorus.
The highlight track for me on Omega is "Masters of Reality", with nice crunching riffs throughout this track, a swagger and darkness in the vocals and guitar during the chorus. The track seems to have a social/political theme and seems to be about the influence press and media, or politicians have with information that is fed to society, and corruption, with part of the chorus being "Masters of our reality, they live to be a lie, they're crooks and liars, oh to they're desires". "Wolf Bitch" is a great classic rocker with a bit of a blues infusion, and throws up something a bit different on the album, a very nice surprise indeed. Again the guitar work is sublime here throughout, with nice grooves and swagger. Penultimate song "The Answer" is another slow one. It flows smoothly along and makes you drift off with its dreamlike sound. This has a classic rock sound infused perhaps with a bit of prog. Beautiful stuff.
There is one thing that has to be said about the rhythm section throughout this album. The bass work of Steve Reilly combined with the excellent drumming of Iain Stratton provides some very tight sounds for the layering of the guitars, and Pete's vocals almost seem so effortless throughout the majority of this album. It could be said he almost sounds too relaxed and the end result comes across as very smooth and polished, albeit with a slight rawness to the sound and production. Overall an excellent debut for Afterlife, and "Omega" continues where previous EP "Alpha" ended. The sounds and obvious influences are very reminiscent of the Seattle bands of the early nineties, primarily Soundgarden, Alice in Chains, with to me a slight hint of Smashing Pumpkins and Alter Bridge thrown in, infused with a smidge of classic rock for good measure. It is a fantastic sound to me. I rate this album highly, and to me Afterlife are one of the best up and coming rock/metal bands coming out of Scotland at the moment.
"Omega" is released Worldwide through Off Yer Rocka recordings on 2nd December 2013
Track List
1. Energy
2. Act Of Defiance
3. Way Back Home
4. Lost
5. Cold
6. Follow Where I Go
7. What Do We Die For
8. Masters Of Reality
9. Wolf Bitch
10. The Answer
11. Survivor
Afterlife are:
Pete McCoy – Vocals
Steve Reilly – Bass
Al Reilly – Lead Guitar
Stewart 'Raggy' Brown – Guitar
Iain Stratton – Drums
Please find recent PlanetMosh Interview with Afterlife HERE, discussing reviewed debut album "Omega"
Please visit Afterlife at:
www.afterlifeband.co.uk/
www.facebook.com/afterlifeUK
//twitter.com/UKafterlife