For the third year running, the now annual event, Abuse Your Confusion came to The Star & Garter in Manchester, on what turned out to be a fairly mild January Sunday. Whilst there was an entry fee for this show it wasn't in monetary pounds it was in pounds of food to be donated to a local food bank.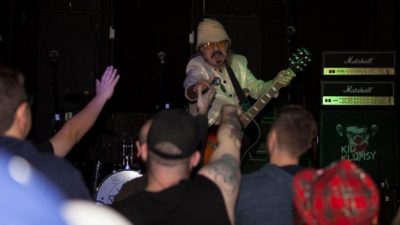 First up came compere Mr Badaxe doing his one man show. One man and his guitar. In his pith hat and safari jacket he looked like an extra from Carry on up the Khyber. With songs about Harvey Weinstein, Rolf Harris and The Teletubbies think Po on the po! Plus a song about warm fronts, well it was actually about he how wanted to jiggle Carol Kirkwood's tits! The songs are not for the easily offended but despite that there was plenty of audience participation. Singing rude words and playing a plastic penny whistle didn't offend this particular audience.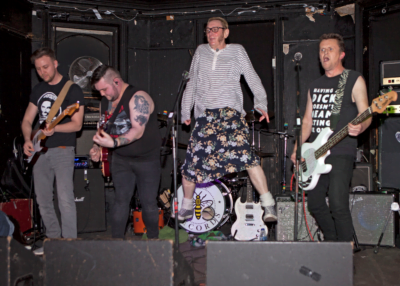 The White Ribbons were introduced by Mr Badaxe as The White Feathers. Was he trying to say they are cowards? Who knows? But it takes some guts to front a punk band wearing a sage green jumper over a loud floral skirt, charity shop me thinks! Topical songs included Don't Be a Dick, about how having a dick doesn't mean acting like one. Song for Sophie a poignant song dedicated to Sophie Lancaster reminiscent of Vomit's Kill City Breakdown.
Another song was dedicate to David Bowie, one anti-Queen, the band not Her Majesty. Then singer Brian asked did anyone vote Brexit? Did you not vote Brexit It's time to make your mind up which led to a cover of Bucks Fizz's Making Your Mind Up with a bit of the Hokey Cokey thrown in for good measure. When singer Brian did a twirl I thought he was going to do a Bucks Fizz style Eurovision entry and rip his skirt off, but it turned out it was actually a dress and whilst we got a flash of his legs the dress stayed on!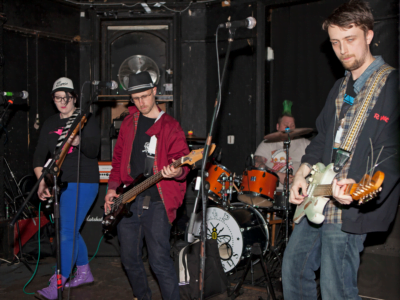 Leftovers, a four piece ska punk from Stafford were tonight's third course. Playing a mix of covers and their own material they opened with a cover of Time Bomb by Rancid. You don't want rancid leftovers do you? Well these weren't so bad, with the guitarists sharing lead vocals to suit the song.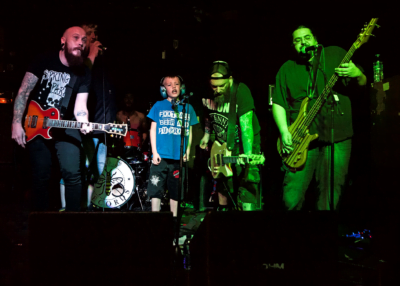 Kid Klumsy from Coalville came last starting off as a four piece with bassist Alistair singing lead vocals on She's A Fuck, then he called for vocalist Weab, who did appear but claimed he was a bit tipsy!
A couple of songs in Weab was looking for the set list and although he found one he realised it wasn't their set list. They were pondering which song came next when a Little Voice piped up True Believers. Weab invited the little voice up to sing the song with them and Aarick, aged 8, took to the stage. It turned out that his voice wasn't so little as he belted out the song with the band, and he knew all the words, unlike me who was singing 'I thought love was only true in fairy tales!' Wrong song but I was half way there as Dyslexic Monkeys was played. Along with Jelly Babies and Bully although not necessarily in that order. I couldn't find the set list either!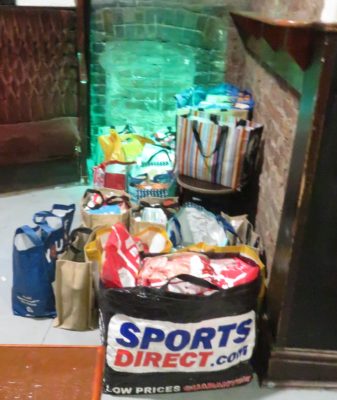 When asked if he'd enjoyed his stint on stage after the show Aarick said yes he had felt very confident, and he looked it too. Good to see the younger generation out supporting live music! Whether his pocket money ran to a fiver's worth of food, I didn't ask! There was plenty of food donated for the worthy cause. What better way to spend a Sunday afternoon than supporting live music and doing a good deed for your local community.
The next show has already been organised for Sunday 24th January 2020, more information can be found via this link
Reviewed by Hell Hath no Fury. Thank you to Michael Steff for the live photos.