Yorkshire based Syteria have been making a name for themselves on the live circuit since their formation in 2015, playing a number of festivals including Call Of The Wild and Hard Rock Hell.  Their debut album Rant-O-Bot was released in 2017 and they are now set to return with their second long player, and Steph Dawson, a new bass player in tow.
Album opener Make Some Noise is pure mid 80's summer rock with an old school riff reminiscent of Ratt.  The na-na-na vocal midsection sets about a gloriously joyful vibe that continues throughout the mainly upbeat album.  Goodbye World is lyrically a serious song but the uptempo "let's find ways to save this world" chorus brings about a positively happy vibe of optimism.  The title track Reflection speeds along with intensity and has a crescendo of vocals.  With Asylum it is clear that Jax knows a riff, and twisting vocals from Julia makes the song sound pure rock.  Gossips is one of the stand out tracks.  With punk pop simplicity it sounds like a teen anthem, is fun, and features great harmonies in the mid section.  Sorry at times reminds of No Doubt, with Syteria providing short bursts of ballad between the rockiness.
These quiet periods on the album highlights that Reflection is a punk rock record that rarely catches it's breath.
As If  is American new wave sounding, with chunky guitars and chant along lyrics.  Back Off is sassy, danceable and full of attitude.  Moving Forward is a fun, guitar driven pop romp about Angels and Demons.  I Want It All has fun verses that lists all the things Syteria desire, Pablo's crashing drums of the chorus, and the chaotic sounding midsection make for nice contrasts as the song progresses.  Plastic Fantastic is the albums shining star, giving a sound reminiscent of cool 1970's New York New Wave mixed with a little Fuzzbox.  Guilty is a fun closer.  It's glam riff, jump around melody, and chant along "Guilty" chorus guarantees it will play really well with a live audience.
Syteria have developed their own style.  Reflection regularly has moments where an accumulation of female vocals are shouted out at key periods giving short, sharp, shocks of attitude.  Their guitar driven, new wave influenced punky classic rock is fresh, quirky, fun, and channels the spirit of The Ramones.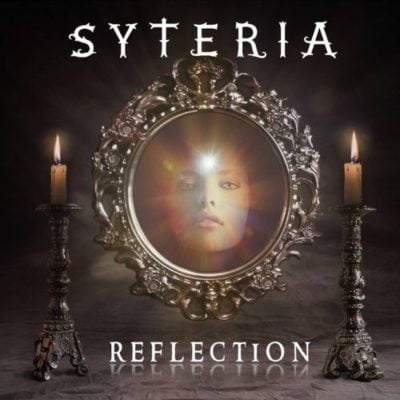 Tracklisting:
1. Make Some Noise
2. Goodbye World
3. Reflection
4. Asylum
5. Gossips
6. Sorry
7. As If
8. Back Off
9. Moving Forward
10. I Want It All
11. Plastic Fantastic
12. Guilty!
Syteria are: Julia Vocal – Lead Vocals, Jax Chambers – Guitar, Steph Dawson – Bass Guitar, Pablo Calvo – Drums
Pre-order the album here: Released on the 21st February 2020 via this link. 
CATCH SYTERIA LIVE AT THEIR UPCOMING SHOWS:
Feb 9th Brickyard, Carlisle
5th March, Trillians, Newcastle
6th March, The Dragonffli, Pontypool
7th March, The Victoria, Swindon
12th March, Real Time Live, Chesterfield
13th March, The Rigger, Newcastle
14th March, Tapestry Arts, Bradford
15th March, King Billy rock bar, Northampton
20th March, Dreadnought Rock, Bathgate
Links:
Refection rarely pauses for breath. Syteria's guitar driven, new wave influenced punky classic rock is fresh, quirky, fun, and channels the spirit of The Ramones.