The history of YES over the last 20 or so years has seen more 'Drama' than Coronation Street and Eastenders combined. I'm not going to go over all the details but for fans it has been a bit of a ride. Albert Tatlock and Ena Sharples have nothing on this.
In 2021 they released their 22nd album The Quest, which apart from the excellent The Ice Bridge it was an album that to my ears was mired in mediocrity but you could hear the YES sound bubbling though like one of Roger Dean's bubble logos waiting to burst out. That followed Heaven and Earth – a new low for them when compared to Close To The Edge released 51 years ago; true it is an unfair comparison but it is not even in the same ballpark.
It came as a huge surprise when YES announced that their 23rd album, Mirror To The Sky, would be released on 19th May 2023. Apparently writing had started before The Quest was released with the band galvanised and moving forwards.
Arriving on the day of release, it went straight on the turntable – initial thoughts of the first two sides… pretty bloody good, some great songs with nice tight playing and with orchestrations to the fore, and keyboards are definitely relegated.
So let's cut to the chase with the album opener Cut To The Stars, also the lead single is both cosmic and excellent and Steve Howe's playing is strong – the force is with him.
We get some country style pedal steel at the beginning of All Connected (but don't let that put you off, it is just Howe's varietal playing), it is the first of the longer tracks and I am feel lots of traditional YES vibes here and with Luminosity we get more orchestra (not cowbell – that comes later) in a song that has more of a laid back feel.
Turning over to side two we start with the short, sweet and up tempo Living Out Their Dream with lyrics that are bizarre, even for YES:
Married at the steak and seafood place
They've got anger written on their face
Living out their dream
Covered in ice cream
However, musically it is very enjoyable but I think they could have made more of this song.
Coming in at almost 14 minutes the title track Mirror To The Sky is the album's magnum opus, the orchestration is exceptional and really lifts the song to another astral plane – hats off to Oleg Kondratenko and FAME'S Studio Orchestra here, and Howe's solo is inspired too.
Closing out side 2 is the Jon Davidson penned Circles Of Time which is both sparse yet and enjoyable; apparently the band made several versions of this song including stronger and more uptempo versions but opted for this one, intriguing.
Sides 3 and 4, the 'bonus' LP are all Steve Howe songs and I am less than enamoured with them. Unknown Place is dull, the instrumental section in the middle is uninspired and even some added cowbell fails to save it. I think it has the makings of a good song, it needed to be more uptempo and brighter. One Second Is Enough (ain't that the truth) and Magic Potion both float by with indifference. Sometimes less is more and as I ponder upon their inclusion it is obvious that a single album would have been a better choice.
As for YES: Steve Howes guitar playing continues to be exceptional, Jon Davidson has found his vocal feet within the band, Billy Sherwood's playing is spookily similar to Chris Squire's and is quite prominent, Jay Schellen's drumming is more than adequate but I feel he is holding back, he should swing his drumming through his skins more, and as for Geoff Downes… where is the man who drove Drama and Asia, at times he isn't even on the back seat – such a shame he is missing in action.
Overall it's damn fine album (I'm not counting the bonus disk here), with the main disc/LP containing some of the best music the band have released in a long time, a truly collaborative effort and proof that YES are set to continue regardless of who is in the band.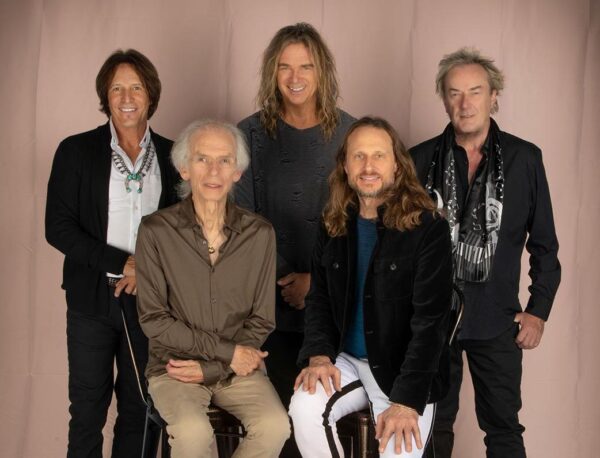 Proggy astral travellers YES aim for the cosmos with their new album!