When Rivers Meet is pleased to announce their new single I Can't Fight This Feeling – released on Friday, May 20th. This is the fourth single taken from their award-winning sophomore album Saving Grace and follows the singles Testify, Never Coming Home and He'll Drive You Crazy.
The single coincides with their UK headline tour which continues at their sold-out concert at The Deaf Institute in Manchester on Thursday, May 19th.   
The news follows WRM's triumphant win at last night's UK Blues Awards in London where they won three awards including "Blues Band of the Year", and "Blues Vocalist of the Year" (Grace Bond), and "Blues Album of the Year" (Saving Grace).
Saving Grace follows WRM's critically acclaimed debut album We Fly Free which was released in November 2020, and their previous two EPs, The Uprising, and Innocence of Youth. The past two years have been a non-stop thrill ride for WRM, which is comprised of Grace Bond (lead vocals, mandolin, violin) and Aaron Bond (guitar, vocals).
On their highly anticipated sophomore album Saving Grace, WRM has set out to produce a blues rock album with a more upbeat, punchy, and exciting sound.  
The album is available from www.whenriversmeet.co.uk.
Says Aaron, "As well as being inspired by classic blues including John Lee Hooker and Muddy Waters, we also draw a lot of influence from classic rock bands that include Led Zeppelin, Bad Company, Cream, and Free. To emulate some of the feel or tone of these legendary blues pioneers and seminal rock bands is something that we strive to do, and hopefully, people will hear that in our music and relate to it."
When Rivers Meet's passion for blues rock shows through with an underpinning of traditional blues and classic rock. The duo makes a concerted effort to keep to a genuine, gritty sound using authentic techniques, including tube tape echo and reverb chambers, which have created a live sound that keeps a truly vintage vibe that not only has energy but is also a true representation of the ever-evolving sound this duo produces.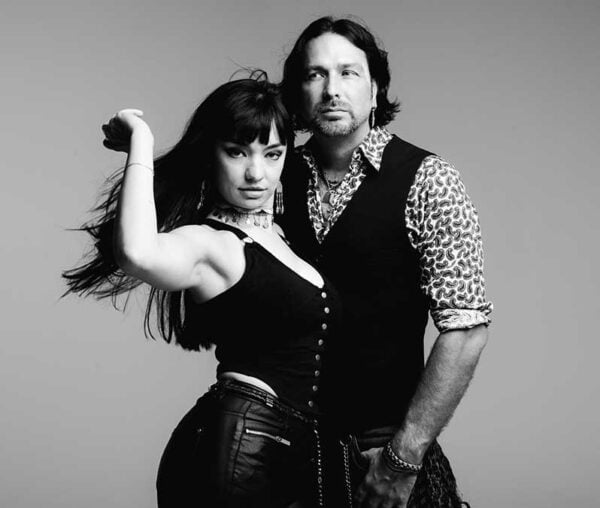 "When Rivers Meet are an addictive, unmissable band on the rise. A duo delivering on more than a decade of devilish potential. And a partnership that's finally found its rock calling." – Rush On Rock

"When Rivers Meet's dirty electric guitar, slide resonator mandolin and violin, creates a blues rock sound that oozes 1970s classic rock with a gentle nod to the 1930's era blues that inspire them." – Metal Planet Music
"When Rivers Meet are at the top of their game."
– Maximum Volume Music

"When Rivers Meet, captivate you. A bit like watching
your favourite film over and over – you want more."
– Planet Mosh

"Aaron is one of those guitarists that jumps up
onto a groove and rides it over the heads of the
audience like a freight train howling through the night."
–  Glasgow Blues Players

"When Rivers Meet are bloody magnificent."
– Devils Gate Music

"Grace and Aaron steal the show with not only their talent but the chemistry that the two share when performing together."
– Rock N Load

"If ever there's a band who looks like they are
having the time of their lives onstage it's this one."
– Maximum Volume Music
WHEN RIVERS MEET
WINNERS OF THREE UK BLUES AWARDS 2022
"BLUES BAND OF THE YEAR"
"BLUES VOCALIST OF THE YEAR"
"BLUES ALBUM OF THE YEAR"
THE NEW SINGLE
"I CAN'T FIGHT THIS FEELING"
RELEASED FRIDAY 20TH MAY 2022
TAKEN FROM THE CURRENT ALBUM "SAVING GRACE" OUT NOW AVAILABLE ON COLOURED VINYL, CD, & DIGITAL FROM https://shop.whenriversmeet.co.uk 

2022 UK TOUR DATES TICKETS AVAILABLE FROM WWW.THEGIGCARTEL.COMWWW.SEETICKETS.COM