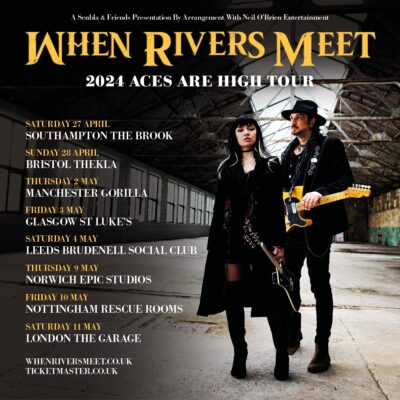 Essex based Grace and Aaron Bond husband and wife rock band, When Rivers Meet return with their recently released third studio album, Aces Are High, that follows their 2020 debut, We Fly Free and the 2021 Saving Grace. Once again it's a privilege to review their work and Aces Are High takes them to the next level, point proven by muscling their way into the Top 10 Official UK Album Charts!
Released via the bands independent label, One Road Records, it opens up with 'Infected', all rock and roll raunch, delivered with steely eyed precision. The main riff from Aaron is like sandpaper to the ears as Grace swoops and soars with abundance over a sturdy drum pound, also providing backing vocals in the choruses. 'Seen It All Before', the third single taken from the album, bursts out on a big, fat juicy riff, doo wop like handclaps, as once again a stadium filling lead vocal could charm the birds from the trees, ending on mighty "whoa oh oh's" and one last almighty stomp.
'Play My Game' has a shimmering lead vocal that fights for the spotlight against a gruelling guitar grind, that highlights their heavier side of songwriting.
From damaging your hearing, they try and break your heart with 'Golden', a poignant ballad that sees Grace and Aaron share vocals over an acoustic delivery, so frail it could fall apart at any moment, gaining strength from sturdy drum beats, piano and full on outro.
'Aces Are High' is a fuzzed up, bonafide earthshaker that sees this crusher stripped to its bare bones, as Grace shrieks with aplomb for a glass shattering performance.
A loose, drawled vocal intro from Aaron sets the scene for Grace to whoop and holler over yet another groovy main riff, this time for 'Trail To Avalon', also adding some fiery electric mandolin lines.
'Perfect Stranger' is a bubbling song of feelgood vibes that go down the gears for the compelling choruses, pinned down by inventive drum patterns that add an extra edge.
'The Secret' picks up the pace to race along on headbanging grooves that hold back for the ballsy choruses.
Four heartbreaking minutes of an almost whispered twin vocal for 'By Your Side' is a song to lose your mind to, purely for its simplicity and elegance.
This monstrous album ends on 'Five Minutes To Midnight', a rib rattling tubthumper of militaristic like drum work. A main riff gives off a stoner rock vibe, leaving room for Grace to belt out her most histrionic vocal.
A purchase link to Aces Are High and other band info is here :- https://bit.ly/AcesAreHigh / http://whenriversmeet.co.uk
Latest single, 'Seen It All Before', follows 'Play My Game' and 'Perfect Stranger'. Grace proclaims," We've always stuck to a certain structure to our songs, but with this song, we removed any limitations, and we consider it to be a really unique song for our repertoire, and from the new album, Aces Are High".
Aaron Bond adds, "Fundamentally, we consider ourselves a duo, and even though this song has percussion, it features a strong guitar line and vocal hook, which, alongside fully produced songs, keep us rooted as a duo".
Aces Are High album track listing :-
Infected.
Seen It All Before.
Play My Game.
Golden.
Aces Are High.
Trail To Heaven.
Perfect Stranger.
The Secret.
By Your Side.
Five Minutes Until Midnight.
When Rivers Meet band personnel :-
Grace Bond – Vocals/Mandolin/Violin.
Aaron Bond – Vocals/Guitar.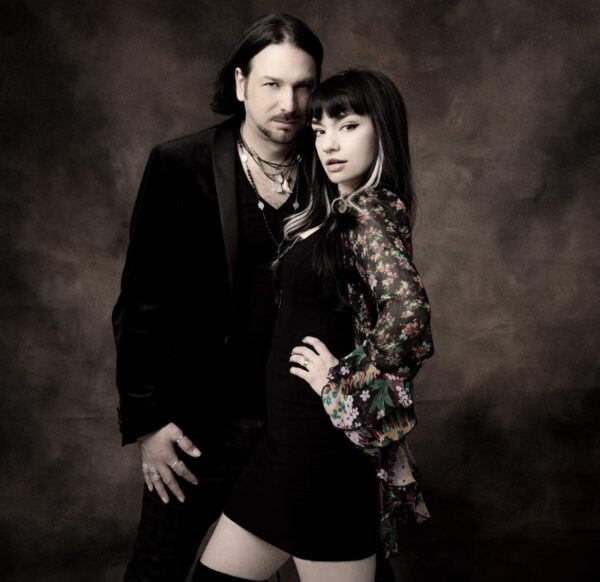 All the aces are held by When Rivers Meet, as they release their stunning new studio album Aces Are High.
Digital Download £5 - Signed CD & Digital Download £20

editor rating