Staying true to the core values of Black Metal, Watain delivers their best album yet.
Watain are without doubt the 21st century's flag flyers for black metal. Since 2000, they have delivered 6 full-length albums, and now we have a seventh in "The Agony & Ecstasy of Watain" to add to an already impressive back catalogue.
Starting with a distinctive tremelo picked riff that picks up speed "Ecstasies in Night Eternal" then explodes into a furious blast laden main riff. It's no holds barred here, and once Erik Danielsson's scathing vocals kick in you know you're in for one very exciting ride. My first thoughts on hearing this were "Bugger me!". It is nothing short of being mauled by a very, very angry tiger on cocaine… If you were worrying that Watain may have "sold out" you can rest assured this is definitely NOT the case!
"The Agony & Ecstasy of Watain" is 9 superb hymns of satanic devotion…
After you have wiped up the tea/beer/blood (delete as applicable) that you will undoubtedly have spilled or spat out after hearing the first track, you have another eight to further draw you over to the very dark side. There are in fact 10 tracks to the album, one of which is an instrumental, but we'll come to that shortly…
Not letting up on the already furious pace set in the first track, brace yourself for "The Howling". A musical parable to the most primal, and darkest origins of humankind. If you have ever read anything by HP Lovecraft, you will definitely be getting a Lovecraftian vibe from the lyrics on this one.
"Serimosa" slows things down some. A song that basically deals with the summoning of the titular demon, it's a slow burner, with a slightly dreamy (or should that be nightmarish) break just after the halfway point, that tricks you into thinking it's going to speed up and rip your face off. Powerful stuff indeed.
Naughty song title alert!
Much like our esteemed UK black metal gods Akercocke and CoF, Erik is not averse to using a certain four-letter word beginning with the letter C. "Black C***" is the track we are referring to here. Lyrically this is my favourite on the album. No, not because of the use of that particular word, but once again we have a huge nod to Lovecraft, with the following lines: "Wake now from quiescence, Thou who lies dead but dreaming. When the stars are ripe, nightmares shall flesh and ascend". It's another mid-paced track laden with great riffs, and plenty of melody.
We then segue into "Leper's Grace" – a whirling maelstrom of scalpel-sharp riffing, swirling lead guitar, and lots of blasting! Basically, a hymn to those who rally against christ and religion's enforced rules, and live life to their own free will.
Did I mention melody??
Yes! As aggressive and extreme as Watain are, they know the power of melody within their art. The simple, short, and atmospheric piano-led instrumental "Not Sun Nor Man Nor God" is a little breathing space before we are dragged "Before The Cataclysm".
A clean intro then erupts into another barrage of blast beats over some seriously tasty and melodic riffing. Counterpoised against that, is Erik's spiteful rasping of his finely composed lyrics.
Guest singer provides one of the album highlights
"We Remain" is the slowest song on "The Agony & Ecstasy of Watain", and with the addition of guest singer Farida Lemouchi (formerly of The Devil's Blood, and now in Molasses) is my personal highlight. There has always been a sinister edge to their music, and Farida's rich vocals add to that giving me some serious goosebumps. She reminded me of a more subdued Diamanda Galas.
The song on a whole has a very "gothic" feel to it. You can imagine dark rituals being performed in temples draped in black drapes and lit only by candles… Marvellous!
Rounding things off…
As may be inferred from its title "Funeral Winter" is an exercise in creating a cold dagger of ice-cold riffs that stab you all over. It's a very traditional sounding BM song, but one that entices you in, to face the frozen end of life..
"Septentrion" is as good a track to end the album, as the first was to open the ritual. it has a steady galloping pace, and once again lots of melody to temper its lyrical homage to living the satanic life, and the demons that watch over those who tread the left-hand path.
To sum things up…
Watain has not let me down here, this is an intelligently, and beautifully crafted album and full praise must be extended to Hakan Jonsson, and Pelle Forsberg, for their part in composing this masterful art alongside Erik.
Lyrically, and musically, it is everything and more that you could demand from them. It is beautifully produced as well, showing that you can be true to the black metal aesthetics without needing to record on an iPhone, and soggy bog roll like some still think is acceptable!
It is worth noting as well, that this is the first album to be recorded with the complete live lineup, rather than just the three core members.
Watain has delivered a masterpiece here. it's accessible, aggressive, sinister, and chock full of great songs, that as stated at the start of this review, stay true to the core values of black metal!
"The Agony & Ecstasy of Watain" could well be one of the albums of the year!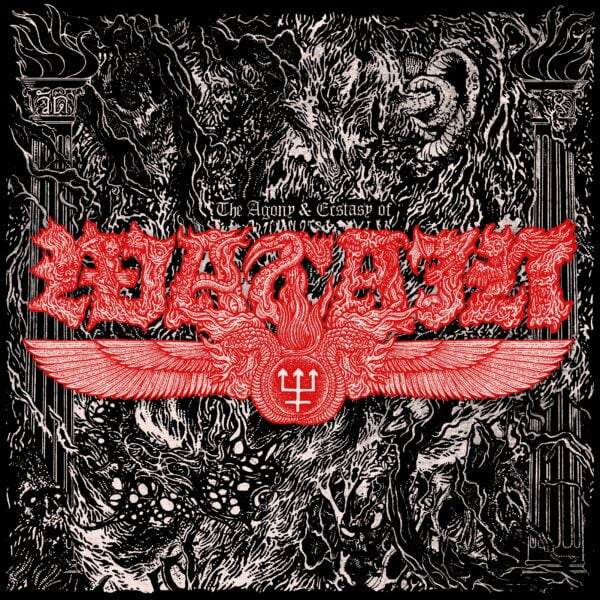 Tracklisting
01 Ecstasies in Night Infinite
02 The Howling
03 Serimosa
04 Black C***
05 Leper's Grace
06 Not Sun Nor Man Nor God
07 Before The Cataclysm
08 We Remain
09 Funeral Winter
10 Septentrion
Links
Instagram http://instagram.com/watainofficial
Facebook http://facebook.com/watainofficial
Official website http://templeofwatain.com
Merch and music store https://www.omerch.com/shop/watain
Watain have delivered a masterpiece here. it's accessible, aggressive, sinister, and chock full of great songs, that as stated at the start of this review, stay true to the core values of black metal!
LP £16.99 CD £14.99

editor rating