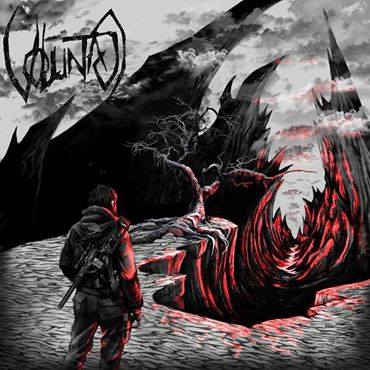 A winning performance at the Bristol leg of the M2TM 2019 resulted in Voluntas securing a slot on the New Blood Stage at Bloodstock Open Air Festival. I've been to the last ten and as long as they keep booking bands like Voluntas then I'll keep on returning! Their debut EP Walk To Hell hits hard and heavy as producer Morgan Harding has managed to harness the ferocity they unleashed that day.
They rattled my headphones from the off with the bullish main riff of 'The Price Is Blood' that vies for attention against the rib rattling bass guitar of Joe Barton and superhuman kick drumming from Alex Bennett. Snarled vocals from Mark Watkins and hellish growls from Joe make for a strong opener as it ends on a fretboard melting guitar solo from K-Lum Schmit. At over the six minute mark, 'Into The Black' would have to be good to keep my attention but they kept it with ease from the slamming intro to the headbanging outro via an over the top drum battery as the riffs buzz like angry bees as call and respond clean and demonic vocals precede a pit opening old school metal midsection.
A brief moment of calm from a melodic rock intro to  'Walk To Hell' is battered into submission by vintage Slayer like time changes and air guitars are a must for the raging outro. The riffs for 'War-Torn' jab like a prize fighter looking for an early knockout as a doom metal vibe rises in the grooves to create a claustrophobic atmosphere. This top drawer EP ends far too soon as they save their heaviest song until last as 'Wolves' is a full on barrage of unstoppable hate as those twin vocal interchanges elevate the song into the stratosphere as it ends on a high with a facemelting guitar outro.
 Walk To Hell track listing :-
The Price Is Blood.
Into The Black.
Walk To Hell.
War-Torn.
Wolves.
Voluntas band line up :-
Mark Watkins – Lead vocals/rhythm guitar.
K-Lum Schmit – Lead guitar.
Joe Barton – Bass guitar/backing vocals.
Alex Bennett – Drums/backing vocals.
Voluntas volunteer to bring some seismic death metal to the table and they do so with ease.