Acclaimed, original and ever-exciting Alt Indie artist Verity White releases the first single 'Just Try It' (Today 24th June 2022) from her forthcoming 6-track EP'Distilled' (to be released on 8th July 2022).
Verity and her co-writer and husband (Alex White) draw inspiration from '90s paragons Skunk Anansie and Tori Amos; from electronica (like the duo Lamb and from CHRVCHES); and from bands like Paramore and the Yeah Yeah Yeahs. Together, Verity and Alex weave together driving riffs, synth parts, and impassioned but nuanced vocals to create alternative music that's rich in emotional charge, meaning and relevance, that hits with serious clout and has blown reviewers away with Verity's vocal talent.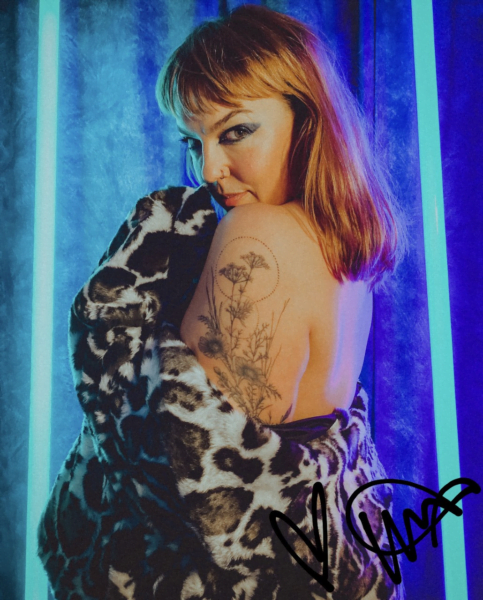 What's more, their sound has evolved, as you'll hear in their new EP, as Verity explains: "'Distilled' is the culmination of a lot of work, creating and thinking over lockdown, as we decided to transition from a 4-piece band to a duo and utilise the synths and electronics that we love to make a new, more modern sound. We wanted to make something that took inspiration from all our musical influences, from jazz and Motown to grunge and hard rock, and everything in-between. The mini-album itself is a smorgasbord of various styles, but we feel that it's the most honest work we've produced yet — and that it truly is the essence of Alex and I distilled into a new sound (See what I did there?!)"
Verity's lyrics are free from cliché, open, honest and relevant, engaging with real and important issues of the here and now, such as her own struggles with ADHD and mental health. They champion female empowerment, aim to bring people together, and seek to connect them through openness and hope.
"The lead single, 'Just Try It', was actually written a while ago," Verity explains, "We'd had it in a maybe pile for some time, but we took it out and worked on it in our new style and it just became so much bigger than it was before. It's a song about challenging yourself and becoming the person you've always known you could be but have been being held back from being, so it felt like the perfect message for our lead single."
Opening with a simple strum, 'Just Try It' then hooks you with its tight guitar riff and drums and hits you with Verity's feeling-filled vocals. "The wheels are in motion, Ignition is on, There's no turning back now, I know where I belong."
As Down the Front put it: "Her lyrics are poetic, her message inspirational and her voice is sublime".
"What a voice!" agreed Dominic Cotter on BBC Radio, after Verity's set at the national BBC Airwaves Festival.
The single is now available on all digital platforms https://distrokid.com/hyperfollow/veritywhite1/just-try-it
No wonder then that Verity has earned several accolades: Listeners of Guy B's Rockshow's votes put her in the Top 10 Bands of the Year of 2019 and 2020, and she came in as runner-up in 2021. She was also named Radio Wigwam's Female Artist of the Year 2019, and nominated for an Impact Award by HRH in 2021 for her work live-streaming and keeping spirits high through the lockdown.
"Yes, this is rock and it is based around guitar and female vocals but she sounds like a more experienced and more nuanced singer than most," said Music-News.com, "Add to that, husband Alex White's guitar riffs and detailed lead playing and you are definitely hearing a top-class rock band."
If you've a hunger for something a bit different to the standard indie/alternative-rock scene offerings, look to Verity White and Just Try It: both her new single and her forthcoming EP 'Distilled'. You'll be glad you did!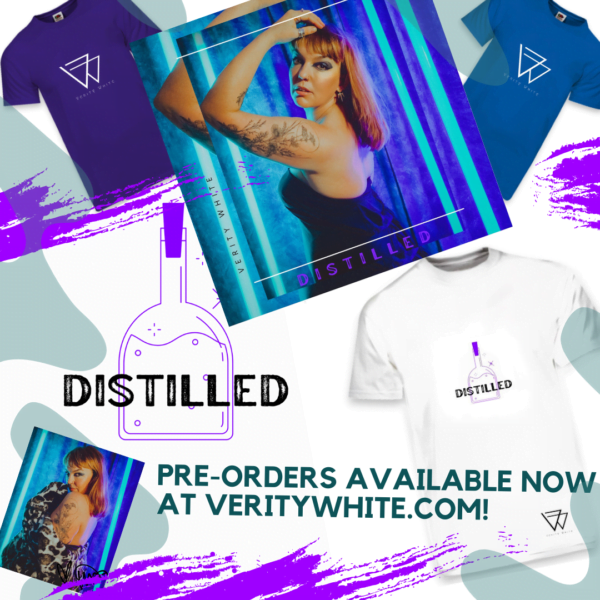 Verity's new album, 'Distilled' is now available for pre-order from her website https://www.veritywhite.com/ in a variety of bundles, including a mega-bundle (with the EP, an A3 art print, signed photo, two t-shirts (a 'Distilled' tee and also one VW logo choice of either purple or blue) for £47.50; a midi-bundle (as above, but with only the 'Distilled' tee, £32); a mini-bundle ('Distilled' tee and EP, £20); and also just the CD, £5.
Website: www.veritywhite.com
Twitter: www.twitter.com/veebear
Facebook: www.facebook.com/veritywhiteband
Instagram: www.instagram.com/Original_Verity
YouTube: www.youtube.com/TheVeeBear
Spotify: https://open.spotify.com/artist/0OcXV5EAZvBFqOu3EjVX5N