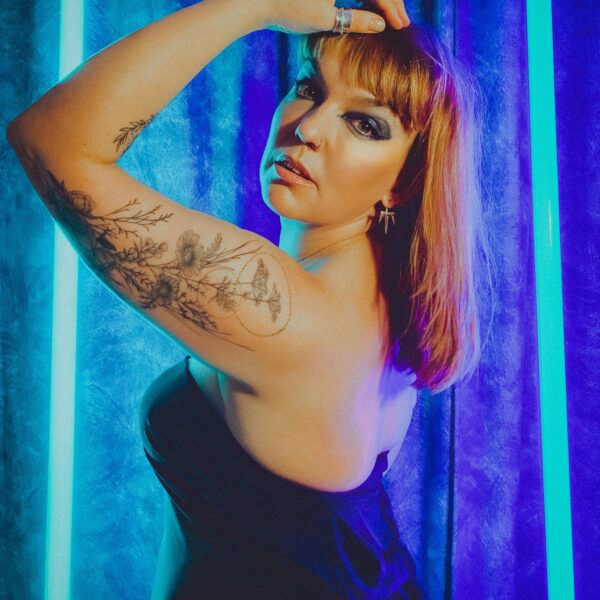 Cheltenham based duo Verity White are not just knocking on the doors of the music industry but kicking them in with a big Dr.Martens boot! Their recently released Distilled EP by WDFD Records is my first hearing of the husband and wife band as Verity provides vocals and jumping around whilst her husband Alex adds guitar, synths, drums and sax for a very eclectic listen to say the least!
Passionate vocal lines make for emotionally charged alternative music as her powerful lyrics portray her struggles with ADHD and mental health as well as championing female empowerment, connecting people together through openness and hope.
These simmering six tracks open up with 'Broken Promises' that ambles along on a steady groove with sedate guitar lines and a vocal to melt your heart from its frailty until it builds into a carousing crescendo.
Mind boggling loops including sax and keys give an off kilter but also a very rewarding listen to give an extra edge to the ethereal vocal nuances of 'A Thousand Times'.
Recently released single 'Just Try It' is a positive song pushed along on choppy guitar chords, bass heavy beats but it's the hope reflected in the lyrics that steal the spotlight.
Skittering drum patterns weave around a gargantuan grungy riff that vies for attention with hip hop beats for 'In Me' and nirvana is reached by a vocal of sheer beauty.
A don't mess with me vocal is the engine that revs up big meaty riffs as 'Road To Nowhere' is the heaviest track musically and vocally.
This magnum opus closes on 'Another Angle'. Trippy beats, earworm percussion and a whisper to a roar guitar assault go toe to toe put up or shut up volatile vocal.
Purchase link to Distilled and other band info are here :- https://www.veritywhite.com/shop I https://veritywhite.bandcamp.com/ Ihttps://open.spotify.com/artist/0OcXV5EAZvBFqOu3EjVX5N I https://www.youtube.com/TheVeeBear I https://www.instagram.com/Original_Verity/ I https://www.facebook.com/veritywhiteband I https://twitter.com/veebear I https://www.veritywhite.com/
Distilled EP track listing :-
Broken Promises.
A Thousand Times.
Just Try It.
In Me.
Road To Nowhere.
Another Angle.
The dynamic duo of Verity and Alex White don their capes to save the World from mudane music with the release of their new EP Distilled.