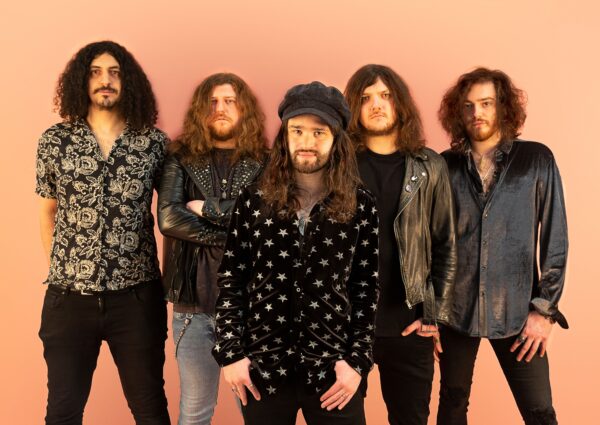 Liverpool based rockers Revival Black burst back onto the scene with their second studio album Under The Light, due for release via TMR Rock Records on Friday August 26th 2022 with stunning artwork from Andy Pilkington at Very Metal Art. To say it's a heavy album is an understatement as they go for the throat (and your hearing) with album opener 'Believe'. A serrating main riff builds up to a crescendo when the rest of the band muscle in with some headbanging inducing rocking out. A histrionic vocal from Dan Byrne elevates to a lengthy midway guitar solo and powerful band fuelled "Whoa oh oh's".
As if by magic, those "Whoa oh oh's" return for 'Take You Out' as the heaviness ante is raised effortlessly by some meaty riffing and worthy of mention is the snappy snare work and bass guitar salvos.
Guitars strain at the leash until they are freed to devastate the start of 'See You Again' but nirvana is reached when the helium fuelled choruses bully in but kudos is achieved by a crushing outro.
Catchy riffs hook and jab in 'Broken Home' for a three minute knockout round of seismic grooves that wrap themselves around a sugar sweet vocal. This ballsy bout ends on a guitar heavy maul has to be heard to be believed, especially from the wailing wah-wah solo.
'Hemispheres' is a ballad but with balls. A serene acoustic and heartfelt vocal intro meanders into a higher pitched vocal and sturdy riffing that builds towards an overwhelming vocal outro.
'Under Fire' creeps up on you from behind on an eerie intro of an almost whispered vocal and bubbling bass lines until it rocks out for this four minute fireball.
A barricade of raging riffs could hold anything back as 'Left Of Me' is a force to be reckoned with as they stand firm and a statement of intent comes from a vocal that also stands its ground.
'Change My Mind' is catchy but still heavy enough to keep the headbangers happy, especially from the full on guitar freak out outro.
More mighty "Whoa oh oh's" raise the roof off 'Wrong Side' but it keeps the right side of heavy rock and raunch as the dynamics are a force of nature.
This stone cold all killer no filler album ends far too soon as 'Hurricane' whips you up into the eye of a storm for a groovy grind. Choruses raise the roof as they strut their funky stuff towards a pause for breath piano lead midsection until all hell breaks loose for a full band outro.
Pre-order purchase links to the album, an album launch party and other band info are here :- https://www.musicglue.com/revivalblack I https://www.facebook.com/RevivalBlackOfficial Ihttps://twitter.com/RevivalBlack_ I https://www.instagram.com/revivalblackofficial/ I https://open.spotify.com/artist/1gJQoCsuHL6jUrtPDqWaRt?si=RcfcsOu3Q2uKQOPud8CmW&nd=1 I https://www.youtube.com/channel/UCZMILH_C8MoPwRFbMLuM5Jw
Under The Light album track listing :-
Believe.
Take You Out.
See You Again.
Broken Home.
Hemispheres.
Under Fire.
Left Of Me.
Change My Mind.
Wrong Side.
Hurricane.
Revival Black band personnel :-
Dan Byrne – Lead Vocals/Keyboards/Acoustic Guitar.
Adam Kerbache – Rhythm Guitar/Backing Vocals.
Alan Rimmer – Lead Guitar/Acoustic Guitar/Backing Vocals.
Ash Janes – Drums/Percussion/Backing Vocals.
Jamie Hayward – Bass Guitar/Backing Vocals.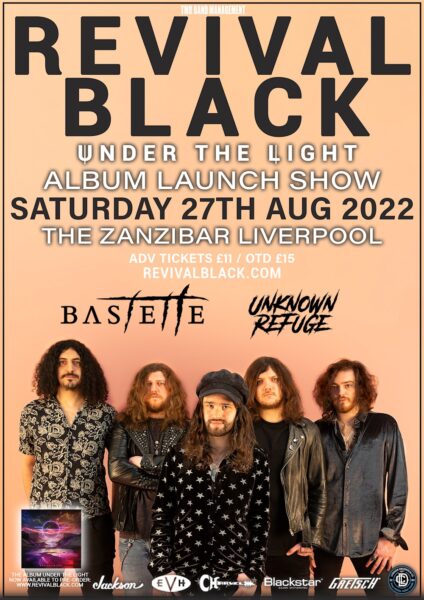 A welcome revival should surely see Revival Black light up the UK album chart with new studio album Under The Light released on August 26th 2022.