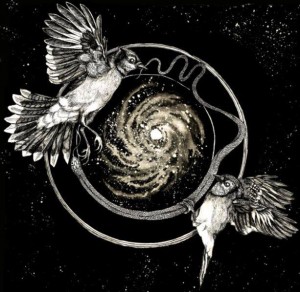 Proving that first impressions can indeed be deceptive, Vattnet Viskar, despite their Swedish monicker do not, in fact, hail from the northern wastelands of Scandinavia but rather from the shores of the eastern United States… their name (which translates as 'The Water Whispers'), however, is a definite homage to the geographic area from both it hails and which, in turn, gives inspiration to their music…
The New Hampshire trio – who came to the attention of Century Media via an EP released last year on local indie label Broken Limb Records – deliver a sound that is rooted somewhere between old school Swedish black metal, with its downtuned, rough feel, very much in the vein of a nascent Tiamat, and a more traditional southern US doom/sludge grind, a la early Trouble.
The result is an album which sounds like it should be a mish-mash of influences, but in fact turns out to be an extremely effective mix of styles, echoing the dark, DIY animosity of the early BM scene and recapturing the feel of those halcyon days, right down to the at-times all too raw mix, especially on Nick Thornbury's hellish vocals and Seamus Menihan's somewhat over elucidated snare sound.
Overall, it's a well-structured album, albeit let down by the aforementioned production blemishes, and one which recaptures the era in which it very much has its roots.  It may be somewhat backward looking for many, but it works on the basic, gut level at which it is pitched and is definitely a BM gem worth hunting down.
'Sky Swallower' is out now on Century Media.
Tracklist:
New Alchemy / Fog Of Apathy / Monarch / Breath Of The Almighty / Ascend / Mythos / As I Stared Into The Sky / Apex
Follow Vattnet Viskar online at:
www.vattnetviskar.com
www.facebook.com/vattnetviskar
www.twitter.com/vattnetviskar