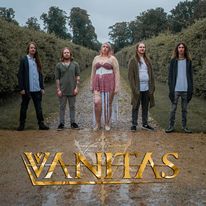 Birmingham based Vanitas return with a bang and not a whimper with their monumental, recently released new single 'Between Lune & Eden'. To these ears it's the heaviest song they've unleashed vocally and musically for five fast and furious minutes. They class themselves as 'cinematic djent' and this genre weaves around curveballs of almost whispered passages, siren like lead vocals from Jade Maris. Heavy metal riffing provides a backbone for a melodic midsection, but the spotlight is stolen by a death metal musical outro and histrionic vocals. Job well and truly done!
Vanitas band links are here :- https://linktr.ee/vanitasband
Vanitas band line up :-
Jade Maris – Lead Vocals.
Mitchell Barlow – Guitar.
Elijah Storer – Guitar.
Jackson Cann – Drums.
Jon Willingham – Bass Guitar.

Prepare yourselves for the aural assault from 'Between Lune & Eden, latest single from Vanitas!