Tyler Bryant is in the Pink with three major announcements! Honoured by Fender; brand new EP; lead-off single)

Rootsy rock 'n' blues singer-guitarist Tyler Bryant has been honoured by no less than Fender with a limited edition, signature model, and custom guitar. To celebrate, Tyler Bryant & the Shakedown have announced the release of a new EP.

The fabled Fender Musical Instruments Corporation (FMIC) and Fender Custom Shop (FCS) announced today the launch of a special, custom, made-on-demand, limited edition guitar that honours Tyler Bryant, based on his shell pink signature instrument.

The limited edition Tyler Bryant "Pinky" Stratocaster® marks Tyler's first collaboration with the iconic guitar brand.
Additionally, less than six months after the release of Tyler Bryant & the Shakedown's critically acclaimed album 'Shake The Roots' (which made it into Classic Rock's Ultimate Review 2022 list, with the single "Bare Bones" shortlisted for Best Song of 2022) Rattle Shake Records have announced a new batch of songs from the Shakedown entitled 'Dirty Work.'
The EP pictures a beat-up shell pink Fender Stratocaster on the cover — the exact guitar that Fender has cloned to be released as the Tyler Bryant Signature model!
"It's insane to me that Fender put my name on a guitar. I used to mow yards when I was a kid to make layaway payments on guitars. It's truly a dream come true for me" says Tyler.
With the release of 'Dirty Work,' the band proves that they were not bluffing when they said they wanted to release more music on their terms.

The album starts with "Strike," featuring a blistering guitar intro that sounds as if Bryant is trying to convince himself that he's worthy of having his name on a guitar. The following number "Burnin'" offers a positive lyrical message of persistence, despite obstacles — something that is the epitome of The Shakedown story.

"We've had our music shelved by record companies. We've been stranded on highways trying to figure out how we were going to make shows. We've had times when we felt like we were banging our heads against the wall. But you keep your head down and keep going. It's all part of the journey," Caleb Crosby, adds.

"Dirty Work" also features Tyler Bryant's wife Rebecca Lovell (Larkin Poe) as a guest vocalist; Tyler recently co-produced 'Blood Harmony' with Larkin Poe in his Nashville studio.
"I call my studio the Lily Pad. There's always something fun coming out of it and I keep it set up to capture moments" confirms Tyler, who continues: "Tennessee," off of the 'Shake The Roots' album, is a recording that happened around 2 AM one night when we were all hanging out. Caleb and I did two passes and (rhythm guitarist) Graham Whitford yelled from the other room, 'The first one was better.' I listened to it the next day and thought, 'Ya, let's share this!'"

"To me, my studio is a place where perfection takes a backseat to passion. Working on that Larkin Poe record though, those girls almost always sound perfect. I've been really inspired by working on records with other artists and I think it has undoubtedly had a positive impact on the music that I make."

The first single from the new EP is "Sho Been Worse." Bryant sings, "I've been better, but I've sho been worse," between lead lines on his beat-up shell pink Strat. You can hear Bryant and Caleb playing off of each other with a rock-solid, yet playful rapport that has been developed over many years together on the road. As always, Graham Whitford is chugging away with an abundance of guitar attitude; something the Shakedown never lacks.

'Dirty Work' will be released worldwide on 24th March and available on all digital platforms and of course, will be released on shell pink vinyl.
See the website for updates on the vinyl release.

The first single 'Sho Been Worse' will be available from 3rd March,

With new music, a new record label and a shell pink guitar with a fresh coat of Fender paint, the band continues to hone their unique style.

If you find yourself within earshot of the Shakedown, grab your earplugs and check out one of their celebrations of "life, sound, and community!"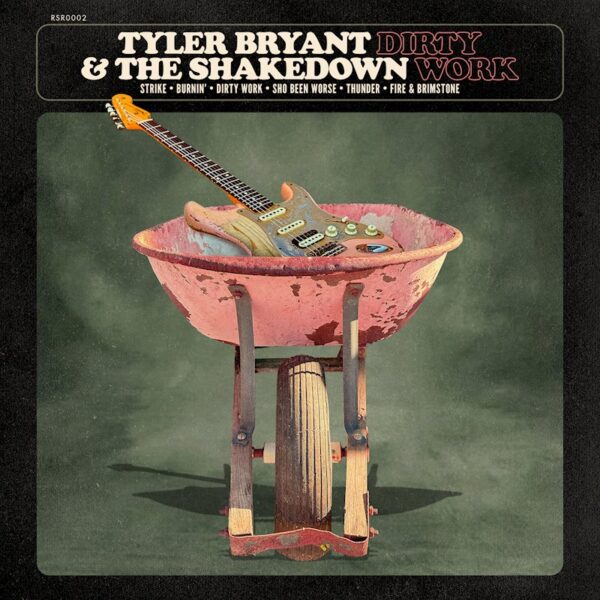 Pre-Order here https://orcd.co/dirtywork

Facebook: https://www.facebook.com/TylerBryantAndTheShakedown
Instagram: https://www.instagram.com/tbshakedown/
Twitter: https://twitter.com/tbshakedown
Website: http://www.tylerbryantandtheshakedown.com/