Multi-award-winning Belfast guitarist and singer-songwriter Dom Martin starts his "Buried In The Hail" Autumn 2023 Album Tour on October 8th at the Carlisle Blues Festival. The tour will take him the length and breadth of the UK and Ireland until mid-November 2023.

Dom's new studio album "Buried In The Hail," due for release in September 2023, is steeped in the roots, Americana, and blues genres.  

Tickets are on sale 9 am on Friday 24th February from www.bandsintown.com/dommartin

One of the most talked about Irish artists in a generation and likened by many to the legendary Irish guitarist Rory Gallagher, Belfast-raised Dom Martin brings his full-band electric show to his fast-growing UK fanbase.

Dom has been nominated for three awards at this year's UK Blues Awards including "Blues Vocalist of the Year", "Blues Artist of the Year", and "Blues Instrumentalist of the Year".

The 32-year-old musician was brought up in the community-driven streets of Northern Ireland and makes no secret of his early struggles with drugs and alcohol, frequently referencing this during his very personal and intimate solo shows.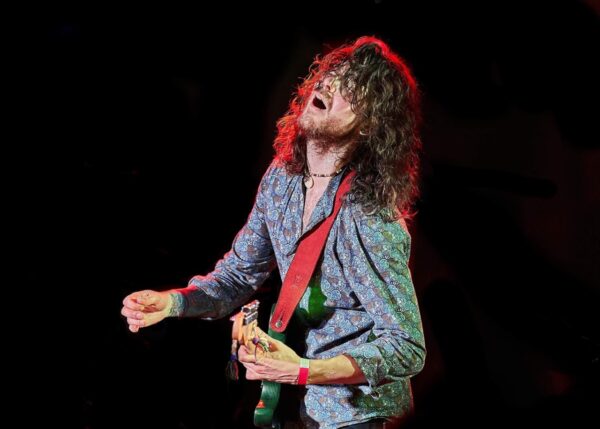 With five European and UK Blues Awards under his belt since 2019, he has attracted attention from Joe Bonamassa, featuring regularly on his Spotify playlists and gaining a coveted invitation to play as a band on the 3rd annual Keeping the Blues Alive III Mediterranean Cruise from 17-22 August 2023 alongside Kenny Wayne Shepherd, Blackberry Smoke and Christone "Kingfish" Ingram, and many more blues artists.

The UK Blues Awards 2022 winner of the "Blues Acoustic Artist Of The Year" award and "Best Instrumentalist of the Year" award says, "I can't wait to see my UK fans again with my solo show, I can never quite believe how quiet they are when I'm playing, it really helps me get right into the moment, it's an awesome feeling for both me and the audience."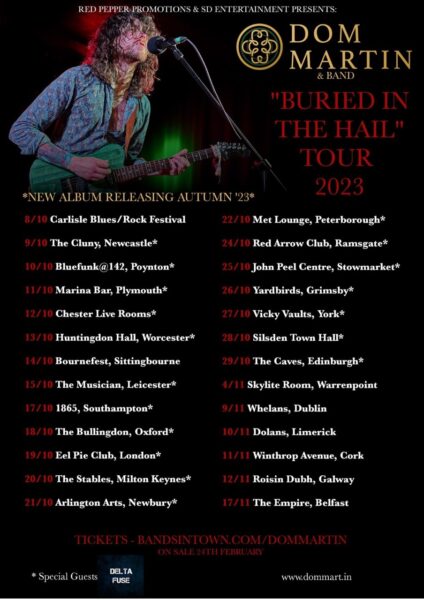 DOM MARTIN "BURIED IN THE HAIL"
AUTUMN 2023 ALBUM TOUR

TICKETS ON SALE 9 AM FRIDAY 24 FEBRUARY 2023
AVAILABLE FROM WWW.BANDSINTOWN.COM/DOMMARTIN  
Carlisle Blues/Rock Festival
Sunday 8 October 2023
Buy Tickets

The Cluny, Newcastle
Monday 9 October 2023
Buy Tickets

The Club@142, Poynton
Tuesday 10 October 2023
Buy Tickets

Marina Bar, Plymouth
Wednesday 11 October 2023
Buy Tickets

Chester Live Rooms
Thursday 12 October 2023
Buy Tickets

Huntingdon Hall, Worcester
Friday 13 October 2023
Buy Tickets

Bournefest, Sittingbourne
Saturday 14 October 2023
Buy Tickets

The Musician, Leicester
Sunday 15 October 2023
Buy Tickets

1865, Southampton
Tuesday 17 October 2023
Buy Tickets

The Bullingdon, Oxford
Wednesday 18 October 2023
Buy Tickets

Eel Pie Club, London
Thursday 19 October 2023
Buy Tickets

The Stables, Milton Keynes
Friday 20 October 2023
Buy Tickets

Arlington Arts, Newbury
Saturday 21 October 2023
Buy Tickets

Met Lounge, Peterborough
Sunday 22 October 2023
Buy Tickets

Red Arrow Club, Ramsgate
Tuesday 24 October 2023
Buy Tickets

John Peel Centre, Stowmarket
Wednesday 25 October 2023
Buy Tickets

Yardbirds, Grimsby
Thursday 26 October 2023
Buy Tickets

Vicky Vaults, York
Friday 27 October 2023
Buy Tickets

Silsden Town Hall
Saturday 28 October 2023
Buy Tickets

The Caves, Edinburgh
Sunday 29 October 2023
Buy Tickets

Skylite Room, Warrenpoint
Saturday 4 November 2023
Buy Tickets

Whelans, Dublin
Thursday 9 November 2023
Buy Tickets

Dolans, Limerick
Friday 10 November 2023
Buy Tickets

Wainthrop Avenue, Cork
Saturday 11 November 2023
Buy Tickets

Roisin Dubh, Galway
Sunday 12 November 2023
Buy Tickets

The Empire, Belfast
Friday 17 November 2023
Buy Tickets