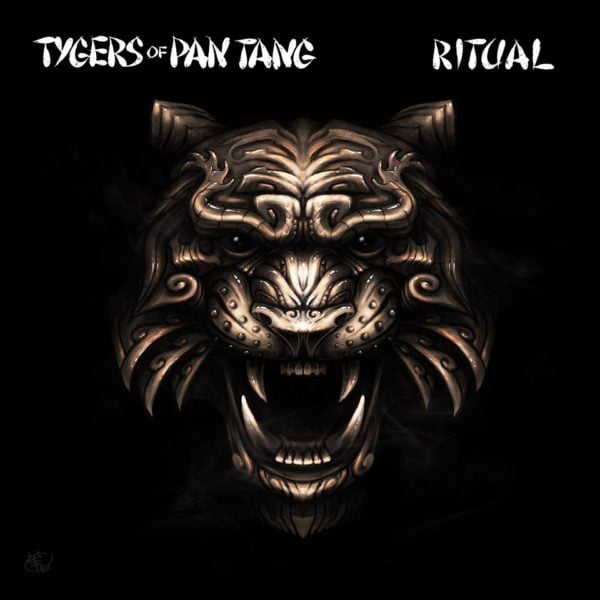 Currently blazing a trail around Europe promoting their latest studio album Ritual, NWOBHM legends Tygers Of Pan Tang are showing that they are wildcats not to be messed with, point proven by these eleven songs here. Formed in Whitley Bay 1978, band leader Robb Weir still exists from the original line up.
Currently on release via Mighty Music, they hit hard from the off with 'Worlds Apart', a heavier than a heavy thing number as an earworm riff pounces to compete with a bombastic band pound as it heads off into melodic headbanging mode and ends on a crescendo of guitar solos that fly out of the speakers. 'Destiny' has a laid back crooned vocal from Jacopo Meille over striding riffing and the bar is raised higher by some sugar sweet choruses backed by searing fretboard wizardry.
'Rescue Me' is a steady chugger and a pleading vocal makes it an early highlight. 'Raise Some Hell' certainly does as it hurtles along on mid paced thrash metal velocity. Air guitars are a must for the intense riffing in 'Spoils Of War' as a captivating lead vocal perfectly captures the mood of the songs subject.
'White Lines' the first single lifted from the album is a heavy metal jewel in the crown of abrasive riffing and thudding bass guitar lines. 'Words Cut Like Knives' is a ballad of two parts. The first half is a gentle piece with a heart worn on the sleeve vocal as it shifts into power balladry midway with guitar overload. 'Damn You' is chock full of slamming riffs bolstered by some sturdy kick drums.
Rock radio airplay must surely happen for 'Love Will Find A Way' as its melodies are commercial enough and the riffs deliver with a big crunch! 'The Art Of Noise' is an adrenaline rush of guitars and booming bass guitar, one of the heaviest tracks here as 'Sail On' is a breath-taking eight minute epic to close the album. Jacopo delivers a spotlight stealing vocal over a backdrop of crushing dynamics and it ends on a race to the finish line outro.
Ritual album track listing :-
Worlds Apart.
Destiny.
Rescue Me.
Raise Some Hell.
Spoils Of War.
White Lines.
Words Cut Like Knives.
Damn You.
Love Will Find A Way.
The Art Of Noise.
Sail On.
Tygers Of Pan Tang band line up :-
Robb Weir – Guitars.
Jacopo Meille – Lead vocals.
Micky Crystal – Guitars.
Gav Gray – Bass guitar.
Craig Ellis -Drums/percussion.
The Tygers sharpen their claws once again for their latest studio album Ritual.