Tygers Of Pan Tang start 2023 with a roar as they release brand new single 'Fire On The Horizon', taken from their forthcoming thirteenth studio album Bloodlines due out on May 5th via Mighty Music.
Formed in 1978 Whitley Bay, Newcastle Upon Tyne, they took a hold on the NWOBHM scene early on in their career with their stunning debut album Wild Cat.
'Fire On The Horizon' is written by guitarist Francesco Marras who was inspired by an old Tygers song 'Running Out Of Time' from their Crazy Nights album and states "I wanted to write something fast and powerful to live up to the band tradition of having powerful guitar riffs and short impactful solos. It sits perfectly alongside the other nine fantastic tracks on the album".
Francesco certainly lives up to his boast by venturing into almost speed metal territory for one of the fastest songs I've heard by them for quite some time. An intro riff lights the fuse for a hot rails to hell headbanger to test the neck muscles of their most ardent fans. A snare driven assault and incendiary guitar solos make for a rivetting midsection but the spotlight is stolen by a stellar lead vocal.
A pre-order link for Bloodlines and other band info is here :- https://targetshop.dk/tygers-of-pan-tang I https://tygerspantang.lnk.to/fire I http://www.tygersofpantang.com/ I https://twitter.com/tygersofpantang/media I https://www.facebook.com/tygersofpantangofficial
Founding member and guitarist Robb Weir proclaims "I feel as confident with our new line-up as I did all those years ago when Wild Cat appeared on the shelves and was given a unanimous thumbs up. Our recent live shows have demonstrated a harmony within the band and, coupled with the quality of Bloodlines, the potential to create music and perform live shows for some considerable time to come".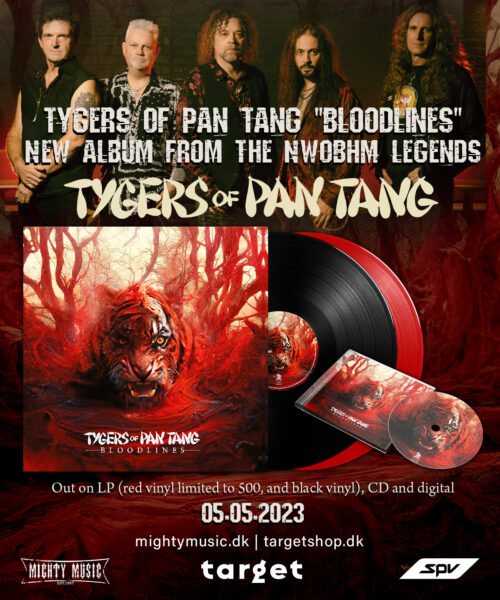 Tygers Of Pan Tang band personnel :-
Robb Weir – Guitar/Backing Vocals.
Craig Ellis -Drums/Percussion/Backing Vocals.
Huw Holding – Bass Guitar.
Jack Meille – Lead Vocals.
Francesco Marras – Guitar.
Tygers Of Pan Tang raise up the temperature with new single 'Fire On The Horizon' taken from forthcoming album Bloodlines.
£13.00 (Bloodlines album)

editor rating