Twisted Illusion – Excite The Light Part III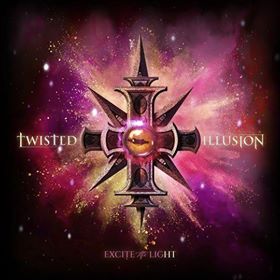 Mad Max? He's nothing compared to Mad Matt, as Matt Jones, head guru of Twisted Illusion defies musical genres to baffle us with the brain mangling new studio album Excite The Light Part III. If you thought the first two were complex, then III will wreck your head!
Returning to the studio with a new line up, it's comprised of two epic songs, each both clocking in around the thirty minute mark. Side one (in vinyl terms) is Calm The Dark that opens with an eerie, short but sweet ethereal vocal intro for 'Night Light Reprise'. 'Cliche' begins with laid back, noodling guitar lines and sparse drums over a soothing, finger pointing vocal from Matt. Keyboards swoop in as Matt lets rip with a lung shredding rant, setting the tone for a raging guitar solo and a histrionic vocal outro.
There is no compromise during 'I Talk Too Much' as the jams are well and truly kicked out. It's a full on foot to the floor snare drum cracking riffer with funky keyboards as vocals are delivered staccato like to hammer home the message in the choruses. A funky bass guitar bombast heads off into a Sabbath like grind.
The poignant intro for 'Invisible Till I Sing' builds to a crescendo of chest beating, soaring melodies. A feel good multi vocal number. Calm The Dark closes with 'Happy And Myself'. It's a jaw dropping piece of music that could melt the coldest heart. The lead vocal draws you in as a laid back musical is not too intrusive. A ray of hope arrives with optimistic lyrics in the final verse as it closes with an adrenaline rush guitar solo.
Side two is Excite The Light, beginning with the grandiose instrumental 'Freedom To Win'. The main riff in 'Clarity' could floor a rampaging King Kong and bass lines threaten to blow your speakers for a five minute aural maul. 'The Impossible Dream' has an angelic heart on sleeve vocal that caresses an abstract musical backing. Bass guitar comes to the fore once again for a strong song that could make the dream possible.
'Take A Moment' is a blink and you'll miss it one verse of shimmering beauty. Feel good rhythms drive 'Restart Reality' with verve. Upbeat lyrics in the verses are surpassed with the mantra like delivered choruses of "Restart the World we live in and take me to a brand new place". 'Acceptance' is a lengthy blues piece that flows like a gently babbling brook.
And so we come to 'I Have Music, I Will Always Have Life', final track of this stunning album. It's eight minutes of insane time changes that will have you punching the air for every twist and turn. Multi tracked vocals from the Twisted Illusion Choir are all consuming, an orgasmic ending to an album which I think contains some of Matt's most personal lyrics.
Grab the album while you can from the band website. There are copies left from the pledge campaign, but once they are gone, the official release is not until 2021!
Twisted Illusion band line up :-
Matt Jones – Lead vocals/guitars.
Saxon Davids – Guitars.
Chris Norris – Bass guitar.
Andy Gotteri – Keyboards.
Phil Shacklady – Drums.
Craig Cairns/Daniel Moran – Guest vocals.
Sean Owens – Guest guitar solos on 'Cliche' and 'I Talk Too Much'
Excite The Light Part III track listing :-
I: Calm The Dark :-
Night Light Reprise.
Cliche.
I Talk Too Much.
Invisible Till I Sing.
Happy And Myself.
II: Excite The Light :-
Freedom To Win.
Clarity.
The Impossible Dream.
Take A Moment.
Restart Reality.
Acceptance.
I Have Music, I Will Always Have Life.
A musical and lyrical journey to another World!