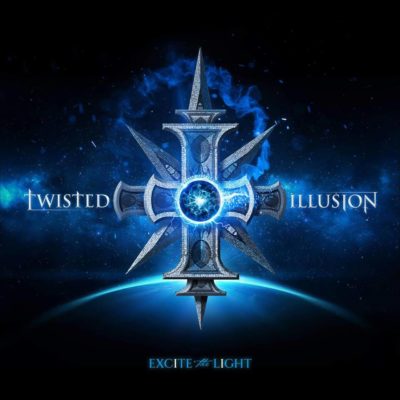 Excite The Light : Part 2, is the second album of the trilogy by Twisted Illusion. Now that the sensible intro is out of the way, the best analogy I can describe this band with and the way they evolve is similar to the creature in The Thing by John Carpenter as it grows in size and power to make it even more formidable.
Band founder and leader Matt Jones has gone from a trio to a quintet which has immeasurably filled out their sound, point proven by opener 'Apathy Killed The Artist', a pounding intro laden with shimmering guitar lines sees it head into a pulsing groove. The lyrics see Matt's frustration with the music business come to the fore as his heart on sleeve vocals are belted out with his usual flair. 'Extrovert Vs Introvert' (music written by new guitarist Saxon Davids) is a joyous opus. Intense intro guitar lines precede a vocal that flow in time with the riffs in the first and fourth verses, whereas the second and fourth have heavier dynamics to them. Drummer Phil Shacklady comes into his own as the raging guitar solos from Matt and Saxon kick in. It's hard to believe they've fitted all this into just under five minutes.
Strangely enough, the guitar lines during 'Everything' brought to mind The Cure as throbbing bass guitar from Cici Powell-Melkonian beefs it up over an angelic lead vocal. Metronomic drum patterns and a dark chord intro then brighten up with uplifting rhythms for 'Hindsight". Multi layered glass worrying vocals soothe but also attack as swirling keyboards from Andy Gotteri herald a gently picked midsection that muscles up to a grandiose outro. Album highlight for me comes early as 'Empathy Is Earned' will surely be a monster when played live. This ten minute work of art sees Matt duet with the stunning vocals of Daniel Moran whose gruffer delivery are a different prospect to the helium fueled ones from Matt. The attention grabbing intro buries its hooks into you as multi time changes dazzle throughout.
'Tomorrow', another epic song is pure hard rock riffing backed by another full on drum assault and a feel good lead vocal. Scorching guitar solos midway begin a lengthy instrumental piece as a chest beating vocal provides a fitting finale. After all the bombast that has gone before it, final track 'Night Light' is stripped down to a bare bones of Matt crooning over gentle guitar chords. The album, once again features eye catching artwork from Andy Pilkington at Very Metal Art.
Excite The Light : Part 2 track listing :-
Apathy Killed The Artist.
Extrovert Vs Introvert.
Everything.
Hindsight.
Empathy Is Earned.
Tomorrow.
Night Light.
Excite The Light : Part 2 certainly excites with seven scintillating songs.