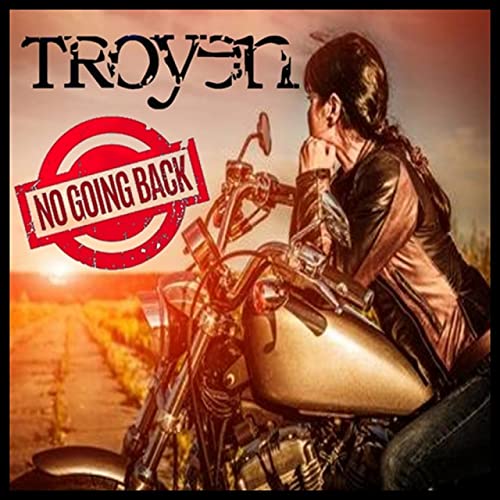 For me in my late teens the NWOBHM genre was a very exciting time for rock/metal music. It threw up a variety of styles of bands, some made it, some didn't but most importantly some decided to give it another go, one of those being Troyen.
Formed in 1981 in Newton-Le-Willows, Merseyside they played many gigs but only recorded one demo, fittingly titled 'The Demo'. Five hundred copies were sold in two runs of two hundred and fifty but sadly they split up in 1982. A resurgence in the NWOBHM movement saw them reform with the original line up in 2014 and I caught one of their gigs when they played Brofest in Newcastle Upon Tyne that year to a sold out venue.
Fast forward to the present day and they are now a five piece as Mark Walling joins as lead vocalist and two members from the original line up are Steve McGuire on lead guitar/backing vocals and Jeff Baddley on drums/backing vocals.
Of course they are sticking to the NWOBHM style (if it ain't broke don't try and fix it) as it's built on a razor sharp main riff pinned down by a tight but loose rhythm section. The vocals soar and swoop throughout the melodic verses (so you could say Mark Walling is also wailing) but they also pack a punch. Choruses are belted out on a sugar sweet tinge with a statement of intent lyrical meaning and it rounds off nicely with a tasty guitar solo midway. Job done!
Band and purchase links are here:- https://www.facebook.com/Troyen14 I http://reverbnation.com/troyen14 I https://www.youtube.com/channel/UCfwWPJid4QlTDL0N23K9b9w I https://troyenmerchandise.bigcartel.com I https://amazon.co.uk/No-Going-Back-Troyen/dp/B0953QDKD8/?tag=plane09-21
Troyen band line up :-
Steve McGuire – Lead Guitar/Backing Vocals.
Jeff Baddley – Drums/Backing Vocals.
Steve Haslam – Lead Guitar.
Mark Nortley – Bass Guitar.
Mark Walling – Lead Vocals.
Troyen keep on trying as they unleash their new single No Going Back taken off the soon to be released album Falling Off The Edge Of Forever.