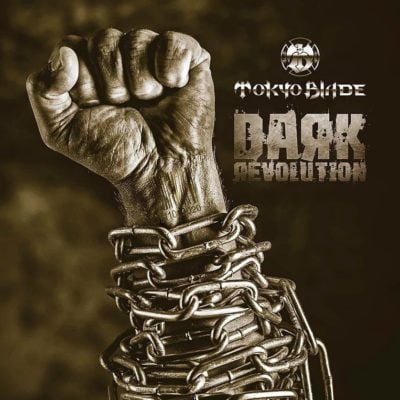 Over the last few years, Dissonance Productions have released some very impressive albums  and Dark Revolution from vintage rockers Tokyo Blade is another worthy addition to their roster!
Founded in Salisbury, Wiltshire in 1979 but known as their current title since 1982, eleven tracks hit hard and heavy in just under a headbanging hour. Currently available, it sets out its intention from the off as album opener 'Story Of A Nobody' has a catchy main riff but is heavy enough to keep the headbangers happy.
'Burning Rain' also burns rubber as it tears down the track with all pistons firing as guitars bluster along over  melodic lead and backing vocals for six minutes of molten metal. The title track is heavy heavy heavy due to a banging main riff. Choruses arrive early with a full on call to arms attitude and air guitars are a must when the solo kicks in.
'The Fastest Gun In Town' may not be as fast as it suggests but it still shoots from the hip with some potent grooves. 'Truth Is A Hunter' is an epic gallop of drum driven hard rock containing some mighty "whoa oh oh's" and choruses.
'Crack In The Glass' sees the band lock in for another full on pummel, driven by some off kilter drum patterns. A brief bass guitar heavy midsection sees it segue into a heavy chug with wah-wah overload. 'Perfect Enemy' is all melody with muscle and earworm vocals soothe the soul. Guitar overload midway contains some shimmering solos. Jams are well and truly kicked out in 'See You Down In Hell' as they put the pedal to the metal for a turbocharged five minutes with twin lead frenzy adding to the madness.
Everything is cranked up to the max for 'The Lights Of Soho', making it my album highlight. It's like being in the eye of a tornado! 'Not Lay Down And Die' has a middle finger in the air vocal as riffs pack a punch around a bluesy midway solo. The album triumphantly ends with 'Voices Of The Damned' with the wind firmly in its sails. Mesmerizing riffs up the heaviness ante and a sedate calm before the storm midsection heads into a full blooded all systems go outro.
Tokyo Blade band line up :-
Andy Wrighton – bass guitar.
Steve Pierce – Drums.
Alan Marsh – Lead vocals.
Andy Boulton – Guitar.
John Wiggins – Guitar.
Dark Revolution album track listing :-
Story OF A Nobody.
Burning Rain.
Dark Revolution.
The Fastest Gun In Town.
Truth Is A Hunter.
Crack In The Glass.
Perfect Enemy.
See You Down In Hell.
The Lights Of Soho.
Not Lay Down And Die.
Voices Of The Damned.
Buy Dark Revolution and get under the blade!