Tobias Sammet is back with a passion to offer up his latest epic. A Paranormal Evening with the Moonflower Society marks AVANTASIA's ninth album and will be released on October 21st, 2022 via Nuclear Blast.
Tobias Sammet about the new album:
"From the first song ideas back in 2018 / 2019 to the production, orchestration, keyboards, arrangements, details, I have been personally involved so deeply in every little aspect and detail of this album, that you can't get an album anymore personal or closer to my vision than this one. I had the time, nothing else to do in the past two and a half years, it was a slow movement life with music and my Mysteryhausen studio serving as a portal to another world, full of music and quirky encounters with my muses keeping me sane and hopeful. I am super proud of the album, some of my best songs, some of my most emotional and extreme vocal performances, and some of the strongest guest performances ever. I couldn't be happier with the outcome and when you'll hear it, you will know why!"
A Paranormal Evening with the Moonflower Society is a collection of eleven magical and powerful songs featuring numerous prestigious guests. It's a musical adventure that's sure to captivate its audience.
Get a first taste by watching the lyric video of the first single taken from the upcoming new album "The Wicked Rule The Night" featuring PRIMAL FEAR front man, Ralf Scheepers.

Watch it here: 


The album was produced by Tobias Sammet with AVANTASIA guitar player Sascha Paeth.
The cover artwork was done by Swedish illustrator Alexander Jansson.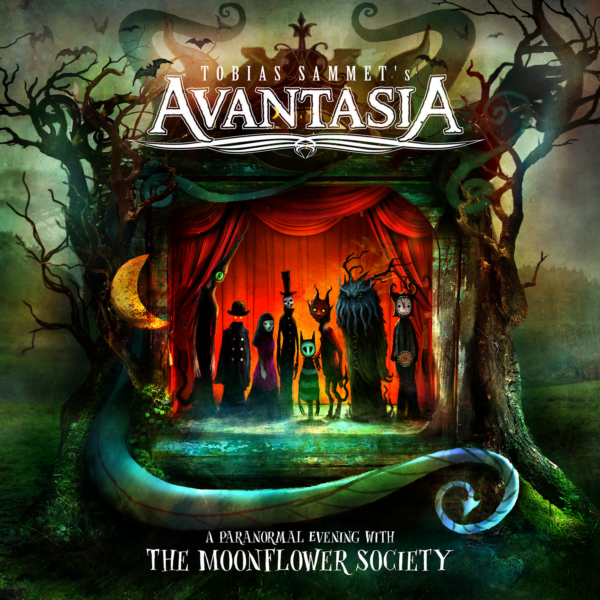 A Paranormal Evening with the Moonflower Society

Tracklisting:
1. Welcome to the Shadows
2. The Wicked Rule the Night
3. Kill the Pain Away
4. The Inmost Light
5. Misplaced among the Angels
6. I Tame the Storm
7. Paper Plane
8. The Moonflower Society
9. Rhyme and Reason
10. Scars
11. Arabesque

AVANTASIA live

24.06. ES Cartagena – Rock Imperium Festival 
30.06. ES Barcelona – Rock Fest
08.07. FI Tampere – Sauna Open Air 
09.07. FI Oulu – Rock in the City 
11.07. NO Oslo – Sentrum Scene 
13.07. SE Gävle – Gefle Metal Festival 
21.07. DE Fulda – Domplatz 
23.07. CH Pratteln – Z7 Summer Nights 
03.08. DE Wacken – Wacken Open Air 
04.08. DE Ludwigsburg – KSK Music Open 
19.08. CZ Moravsky Krumlov – Rock Castle 
26.08. DE Coburg – Schlossplatz 
03.09. DE Gelsenkirchen – Nine Lives Open Air Festival 

ABOUT AVANTASIA:
AVANTASIA, the all-star rock outlet led by EDGUY singer, songwriter and producer Tobias Sammet, released album number eight "Moonglow" on February 1, 2019 via Nuclear Blast Records, which hit number one on the album charts in Germany and charted in 17 countries in Europe, Asia and the Americas before AVANTASIA embarked on a ten-month world tour of Europe, Russia, Asia, Australia, North and South America. 
 
Since its beginnings in 1999, the past AVANTASIA releases have featured international stars such as Alice Cooper, Klaus Meine and Rudolf Schenker (SCORPIONS), Sharon Den Adel (Within Temptation), Bruce Kulick and Eric Singer (KISS), Eric Martin (MR BIG), SAXON's Biff Byford, ex-TWISTED SISTER frontman Dee Snider and many more.


More information:
www.tobiassammet.com
www.facebook.de/avantasia
www.nuclearblast.de/avantasia