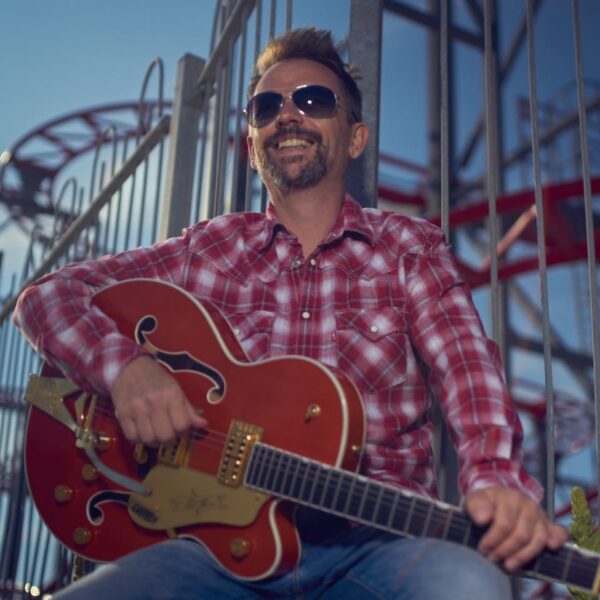 Following on from the solo debut album The Long Game by TJ Walker released in 2019, he certainly defines the term solo artist as he wrote, sang and also played every instrument as well as recording and producing it. Fast forward to October 28th 2022 as he releases his sophomore album Halfway To Somewhere that features his band The Long Game, who took their name from said debut album and the touring brass section from the Brand New Heavies for extra pizzazz!
Country rock/blues/Americana are not the genres I normally review but it's a very enlightening listen and these ten tracks impressed highly after each play, point proven by album opener 'Dreamcatcher'. It uplifts from gospel tinged choruses, heartbeat like drum patterns and prominent keyboard stabs but the spotlight is stolen by Toms majestic guitar work.
'Halfway To Somewhere' is not just the album title, it's also an official video to. It's sassy, classy, laid back funk that has the forte to fill any dance floor. A husky lead vocal from Tom adds to the party atmosphere until it closes on a dreamy guitar solo.
The shy and retiring 'With And Without You' is beefed up by some punchy brass work and bitter sweet lyrics tug at the heartstrings, punctuated by gently picked guitar nuances.
'A Better Me' is a skin shivering ballad of the highest order. It tells of how your life can change for the better from the arrival of a new relationship.
A whimsical tune comes from 'The Right Time' that shoots the breeze on feelgood vibes to melt the coldest of hearts. It ends on a sultry shuffle and a fretboard burning guitar solo from Tom.
Another sumptuous ballad comes from 'If I Still Had You' as banjo adds some delightful flavours.
'Call Time Out' ebbs and flows on hypnotic grooves that pick you up and don't let you go until this honey dripped vocal driven sensual opus has taken every last drop of your emotions from you.
Almost whispered vocals and sparse guitar chords soothe as 'Daddy's Girl' is like a hug from your best friend. It's a song to cherish, a song to put to the top of your playlist.
'Hollywood' is a tantalizing toe tapper that bubbles along for three thrilling minutes of coolness to make for my album highlight.
The autobiographical 'Small Town Bar' closes the album, telling the story of how Tom starts playing in small venues, hopefully getting spotted and landing a record deal, point proven by the lyric "We're rocking out like the Beatles at Shea, got to believe it's gonna be like that for us someday". The choruses are like the Eighth wonder of the World and get those air guitars ready for the outro!
Purchase links to Halfway To Somewhere and other band info are here :- http://iamtjwalker.com I https://www.facebook.com/iamtjwalker I https://twitter.com/iamtjwalker I https://open.spotify.com/artist/4ANIpCrQuHcHsNLPuvWl6N?si=W0Bt_U-KTfCAGnPtoRvDzg&nd=1 I https://www.instagram.com/iamtjwalker/ I https://www.youtube.com/channel/UC_Tv3Zw7MCWpIIYpfQQqUMA I
Album track listing :-
Dreamcatcher.
Halfway To Somewhere.
With And Without You.
A Better Me.
The Right Time.
If I Still Had You.
Call Time Out.
Daddy's Girl.
Hollywood.
Small Town Bar.
Album personnel :-
TJ Walker – Lead Vocals/Guitar/Bass Guitar/Banjo/Pedal Steel/Mandolin/Harmonica.
Mike Drinkwater – Keyboards/Backing Vocals.
Ralph Millington – Drums/Backing Vocals.
Richard Beasley – Saxophone.
Bryan Corbett – Trumpet/Trombone.
I would like to dedicate my review to Claire Lloyd at wwwcentralpresspr.com
TJ Walker walks the walk and talks the talk with new studio album Halfway To Somewhere.