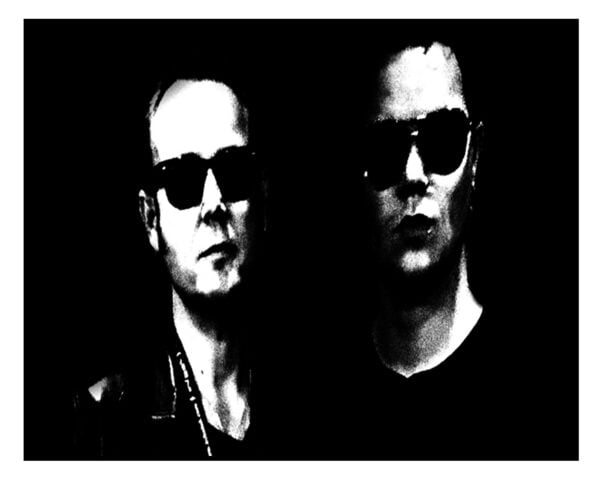 Pulling from New Order and Jesus and Mary Chain to Nine Inch Nails, THEY CALLED HIM ZONE have knitted a textured sound that sets them well apart from the horde. The band have meticulously crafted a sound that is imaginative, while harnessing their genuine ability to write a killer tune. THEY CALLED HIM ZONE have released a new explosive new single, Authority – https://youtu.be/c8-PEr1tJa8 , with their blistering debut album, If You've Got A Taste For Terror, landing on Friday 4th September.
Hailing from Bradford, and born in 2016 as a purely studio-based project, THEY CALLED HIM ZONE was originally the solo work of Mik Davis, who promptly released a debut EP, entitled Miami—a project that quickly began to take flight. Steve Maloney joined as Mik's creative partner, and a second EP, Crow Swan Wolf, arrived soon after and went on to rack up attention among electro rock and darkwave aficionados.
Three singles followed: Death Drive, I Want Love, and a cover of The Stooges' classic I Wanna Be Your Dog – https://youtu.be/QtssiePQY9I . Critical acclaim and plaudits also began to flow, with the band receiving airplay on BBC Introducing, Total Rock,and The Mattcave, as well as numerous radio stations around the world. The duo also played a series of shows with everyone from: New Model Army, Die Krupps, Revolting Cocks, Bad Pollyanna and Zeitgeist Zero.
The twosome are now poised to release their intoxicating new album, If You've Got A Taste For Terror. The record combines sultry electronica with chewed-up modulated guitars, evoking rain-drenched, neon-daubed streets, proscribed chemicals, and black-clad malcontents—think shades, Marlboro Reds and James Dean digitized. Mik Davis comments about the record: "We initially wrote most of the songs in a dank basement studio (which repeatedly flooded) in an old industrial building in Bradford's infamous red-light district. We then moved into a slightly better studio across the road – and into a unit that we later found out was once the scene of a grisly gangland kidnapping and torture. Despite seeming like something from a Quentin Tarantino movie, this was where the main tracks from the record were produced and mixed. We'd like to think that all the darkness, deviance and drama contributed to the overall vintage, yet contemporary sounds created within this album, but who knows, certainly not us."
| THEY CALLED HIM ZONE RELEASE THEIR NEW ALBUM 'IF YOU'VE GOT A TASTE FOR TERROR' ON FRI 4th SEPTEMBER |
www.theycalledhimzone.com | www.facebook.com/theycalledhimzone