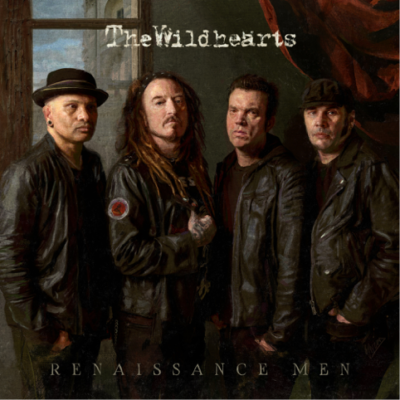 God bless The Wildhearts! Rising from the ashes like a hard rock phoenix, not only have they reformed with my favourite line up, they have returned to the studio, have recorded and released Renaissance Men, my album of 2019! A Google search of renaissance translates to "A revival of, or renewed interest in something", perfectly portraying their current situation. A ten year gap since their last release Chutzpah seems a lifetime away but the wait is well worthwhile as these ten songs slay with a renewed bravado.
As The Rods once said "Crank it up" and opening track 'Dislocated' does just that as Ginger rants away like an even more pissed off Al Jourgensen over riffs from him and CJ that hit hard and heavy as the rhythm section of Danny McCormack on bass guitar and Rtich Battersby are nothing less than a force of nature. The album still has melodies that soothe the soul but is also one of the heaviest I've heard from them. 'Let Em Go' opens on the adrenaline rush chorus with lung busting backing vocals from Frank Turner. It's delivered like an anthem and quite rightly so as the riffs writhe and twist with vigor and I've been in crowds this year hollering out "Let 'em go, let 'em go, let the wankers find their own" back to the band.
'Renaissance Men' has some killer tongue in cheek lyrics fanfaring their return including "So here we are again – Buen Dia. Hats off to the shape we're in – Eureka", backed by some early glam rock like musical bombast. 'Fine Art Of Deception' is a melodic punk driven rant especially during the visceral midsection. Album highlight for me is 'Diagnosis, a powerhouse of a song musically and lyrically. A guitar heavy lengthy intro draws you in like 'Inglorious' or 'Nothing Ever Changes' did the first time I heard them to. The song hits out at how the medical health profession lets people down who are suffering from depression and mental illness that earns a well deserved "You're not an animal, we're not animals. I'm not an animal, I am a human being". Midway the intro riffs crash back in as they go all ACDC on us again with Dannys bass lines going off the richter scale. 'My Kinda Movie' is a take no prisoners Motorhead like bluster of belligerence as Ritch tests the durability of his kit with a superhuman battery. How they managed to squeeze all this into three and a half minutes defies belief.
'Little Flower' is another short, sharp number that sees them take their foot off the accelerator for a dose of bluesy vibes and sugar sweet choruses. Punk is all punked up to pogotastic levels for 'Emergency (Fentanyl Babylon)' and I had it on repeat play a fair few times as it buzzed around my headphones. Another example of Gingers lyrical genius sees the thought provoking 'My Side Of The Bed'. They are like a short story, not just a song and they are backed by Godzilla stomped dynamics. Final track 'Pilo Erection' is a prime example of how they manage to combine melody with muscle. Angelic verses and stomping choruses make it a thrilling end to a perfect album.
 Renaissance Men album track listing :-
Dislocated.
Let 'Em Go.
The Renaissance Men.
Fine Art Of Deception.
Diagnosis.
My Kinda Movie.
Little Flower.
Emergency (Fentanyl Babylon).
My Side Of The Bed.
The Wildhearts band line up :-
Ginger Wildheart – Vocals/guitar.
CJ – Guitar/vocals.
Danny McCormack – Bass guitar/vocals.
Ritch Battersby – Drums.