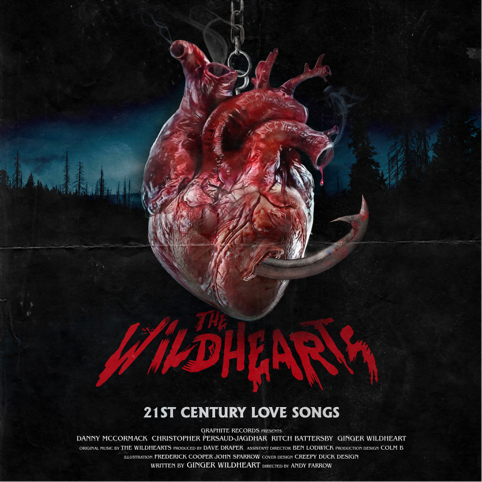 Is it my 58-year-old ears playing up or is 21st Century Love Songs the heaviest album created by The Wildhearts? Recently released on Graphite Records, it's an absolute monster, to say the least!
It races along in the fast lane as the rabble-rousing intro to the title track heads off into a glorious (or an even inglorious) ear rattling pound. I expected a soothing trademark chorus from them but instead, they speed up for a full-on rant and they muscle up even more for caustic rage as this frantic opener closes on a shout-along turbulent drum battery.
'Remember These Days' is a bittersweet song of love lost reminiscence but this is no soppy ballad, just a turn it up to 11 delivery brought down a tad by some "Woah oh oh's" and even adds a few bars of 'Eton Rifles' in the dreamy midsection.
'Splitter' is a hairy headbanger due to a mauling main riff to die for. It bounds along with reckless abandon as a scorching guitar solo ups the heaviness ante to make it an early album highlight.
Snappy snare work lights the blue touch paper for 'Institutional Submission' as well as a guided tour around the rest of the kit of Ritch Battersby. This ballistic number contains some neat twin-guitar from CJ and Ginger Wildheart preceding a seismic midsection as Ginger hollers his vocals to rise above the tumult for the straight to the point lyrics.
An earworm intro riff and boisterous bass guitar bludgeon from Danny McCormack provide the pathway for a cathartic churn of full-on heavy metal. A midway gang like verse hits hard and heavy as it crosses the finish line from a bonkers outro to 'Sleepaway'.
'You Do You' is a short, sharp middle finger in the air rant that pulls no punches as it scythes along for 3 minutes of the band venting their spleens.
'Sort Your Fucking Shit Out' is a tongue in cheek slice of power pop but have lyrics with a sting in their tail including "David, you've got another chance, take off your shoes and dance, your story is pure romance, let's face it, your luck has not run out, you've had 9 lives, just about, it's time for you to sort your fucking shit out!" Of course, David is Ginger's birth name.
Wrecking ball power grooves propel along 'Directions', a monster of a track built on bullish riffing and ear caressing hooks, a prime example of melody with muscle as they lock in tight for a breathtaking finale.
'A Physical Exorcism' is also an aural one as Ginger spits out the lyrics like a demented drill sergeant. Musically it's as wiry as Bomber era Motorhead as Danny adds some ballbusting bass lines and the choruses are the most melodic on the album.
The final track 'My Head Wants Me Dead' suggested another blast of ire but this magnum opus is all staccato rhythms and a soothing croon from Ginger like a distant relation of 'Just In Lust'.
I'll leave the final words to Ginger as he proclaims "There's a subtlety to this album, something that people don't associate with The Wildhearts, and a sense of adventure in the orthodox arrangements of the songs. This is where I became a fan of the band when we ditch the rule book and just follow our instincts. Sarcastic, fun, angry, proud, experimental and belligerent, all wrapped up in a big fuck you! This is the sound of a band in their natural habitat. This time we're in control".
Purchase links to the album and band info are here:- https://ffm.to/21stcenturylovesongs/hmv I https://amazon.co.uk/21st-Century-Love-Songs-The-Wildhearts/dp/B096ZS3VFP/?tag=plane09-21 I https://www.facebook.com/TheWildhearts I http://www.thewildhearts.com/
21st Century Love Songs album track listing :-
21st Century Love Songs.
Remember These Days.
Splitter.
Institutional Submission.
Sleepaway.
You Do You.
Sort Your Fucking Shit Out.
Directions.
A Physical Exorcism.
My Head Wants Me Dead.
The Wildhearts rule the 21st century with these 10 songs of piss and vinegar!