.@TheQuireboys as they celebrate their 30th Anniverary. Feature by .@louelladeville_ @Planetmosh
To celebrate their 30th Anniversary this year The Quireboys announced a special 30th Anniversary gig at The Half Moon in Putney, where they began their Rock 'n' Roll journey in April 1984. When the gig tomorrow (23rd April 2014) sold out within 24 hours a further gig was added tonight (22nd April 2014) another sell out! The Quireboys will also be peforming at Hard Rock Hell Ibiza next month.
Mark Wylie, who runs The Quireboys Fans Worldwide group on Facebook, wrote a brief history of the band up until the release of This is Rock 'n' Roll: –
'After violent incidents at early live shows, this UK band altered their name from The Queerboys to (The London Quireboys before settling on just) The Quireboys, to avoid further trouble. Comprising Spike Gray (vocals), Nigel Mogg (bass, nephew of Phil Mogg of UFO), Chris Johnstone (keyboards), Guy Bailey (guitar), Ginger (David Walls) (on guitar) and Coze (drums), they were all originally drinking buddies in London pubs.
Drawing musical inspiration from the Faces, Rolling Stones and Mott The Hoople, they specialized in barroom boogie, beer-soaked blues and infectious raunch 'n' roll. Gray's rough-as-a-gravel-path vocal style, closely resembling Rod Stewart's, added fuel to accusations of the band being little more than Faces copyists.
After releasing two independent singles the Quireboys signed to EMI Records and immediately underwent a line-up reshuffle. Coze and Ginger (who went on to form the Wildhearts) were removed and replaced by Ian Wallace and Guy Griffin, respectively. They recorded A Bit Of What You Fancy in Los Angeles, under the production eye of Jim Cregan (former Rod Stewart guitarist). It was an immediate success, entering the UK album charts at number 2 in February 1990. Hey You, lifted as a single, also met with similar success, peaking at number 14 in January 1990. An eight-track live album followed, which duplicated most of the numbers from their first album, as a stopgap measure to bridge the long period between successive studio releases.
However,when Bitter Sweet & Twisted failed to ignite, Gray left to form his own band, God's Hotel, denying rumours that he had been invited to replace Axl Rose in Guns N'Roses (after having contributed to Slash's solo album). The Quireboys had come to a natural conclusion, or, as Gray preferred to put it, 'we were past our sell-by-date'. Bass player Nigel Mogg put together his own project, the Nancy Boys, in New York.
Gray, Griffin and Mogg re-formed the band in the new millennium with additional members Luke Bossendorfer (guitar), Martin Henderson (drums) and Simon Rinaldo (keyboards). The quintet recorded the excellent This Is Rock 'N' Roll for the Sanctuary Records label.' in 2002.
Guy Griffin tells us in my interview with him, at Sheffield Corporation on 8th February 2014, about how the band came to reform: –
http://planetmosh.com/guy-griffin-the-quireboys-interview-8th-february-2014/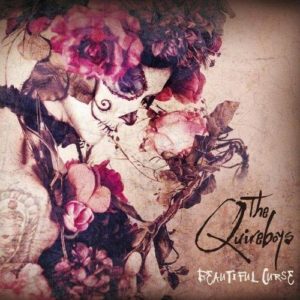 Discography.
1990 – A Bit of What You Fancy
1993 – Bitter Sweet & Twisted
2001 – This is Rock 'N' Roll
2004 – Well Oiled
2008 – Homewreckers & Heartbreakers
2009 – Halfpenny Dancer
2013 – Beautiful Curse
Read our review of Beautiful Curse here: http://planetmosh.com/quireboys-beautiful-curse/
Today's core line-up consists of Spike, Guy Griffin, Paul Guerin and Keith Weir. There have been numerous Quireboys over the years and Spike jokingly said at their gig at Sheffield Corporation that he couldn't remember half of the drummers! With more tour dates and an album due out later this year here's to another 30 years of Rock 'n' Roll with The Quireboys.
For a more detailed history see what their website and Wikidepia have to say:-
http://en.wikipedia.org/wiki/The_Quireboys
https://www.facebook.com/quireboys
https://twitter.com/TheQuireboys
https://www.facebook.com/groups/thequireboysfans/
Planetmosh reviews: –
http://planetmosh.com/saxon-and-the-quireboys-review-manchester-the-ritz-23-04-13/
http://planetmosh.com/the-quireboys-club-academy-manchester-15th-october-2013/
http://planetmosh.com/the-quireboys-acoustic-sheffield-corporation-8th-february-2014/
Videos: –
Mother Mary Official Video:
Too Much of a Good Thing Live