Metal music comes in many different forms. Heavy, thrash, black, death, hair, glam etc, so here comes Mongolian metal from The HU on their mindblowing debut album The Gereg, released by Seven Eleven Music. They first came to my attention when Planet Rock played 'Yuve Yuve Yu' and the instrumentation and extreme vocals blew me away. This song and follow up 'Wolf Totem' have now reached over eighteen million views on Youtube!
Their name comes from the Mongolian word 'hunnu' which means human and they describe themselves as "Hunnu rock".They formed in 2016 in Ulaanbaatar, Mongolia and sing in their native tongue as well as using 'khoomei' (throat singing) and traditional instruments, 'morin khuur' (horsehead fiddle), 'tovshuur' (Mongolian guitar), 'tumur khuur' (jaw harp) as well as bass guitar and drums. The word Gereg was used as the first diplomatic passport during the time of Genghis Khan so the band have named their album this as it's release will make it their passport to the World. So much so that the foreign minister in Ulaanbaatar has appointed them as Worldwide official ambassadors!
The nine tracks here are a dazzling display of moods as the title track starts with hypnotic drum beats, 'tumur khuur' and heads off into a metronomic pound backed by an almost whispered vocal, peppered by segments of 'khoomei'. 'Wolf Totem', described by The HU as "Bringing out your inner warrior" has a shimmering 'morin khuur' intro as the song rumbles along on gripping call to arms chants. 'The Great Chinggis Khan' begins calmly as it heads off into captivating, ethereal rhythms. 'The Legend Of Mother Swan' is an uplifting piece as the vocals seem to give a message of hope over waves of soothing music. 'Shoog Shoog' muscles up the album with a bass heavy pummel. Gnarly vocals in the verses lead to chest beating choruses.
'The Same' is my album highlight! Marching drum patterns draw you into a menacingly crooned vocal as swathes of 'morin khuur' give it a spooky vibe. 'Yuve Yuve Yu' is about respecting their elders and protecting nature. This song has already opened many doors for the band, a feel good number with uplifting grooves and instantly memorable choruses. 'Shireg Shireg' keeps up this vibe as it surges along on jaunty flute parts. Album closer 'Song Of Women' is an epic due to it's seven minute duration and its subject matter of how the Mongols respect their women. The vocals ebb and flow over soothing music and a female backing vocal gives it an extra edge.
In 2019 The HU played twenty two European dates that included eight major festivals, are currently on a three month USA tour and will be returning to Europe in 2020 throughout Jan/Feb with another twenty two dates. Miss them at your peril.
The Gereg album track listing :-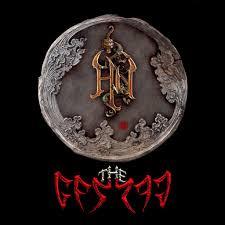 The Gereg.
Wolf Totem.
The Great Chinggis Khan.
The Legend Of Mother Swan.
Shoog Shoog.
The Same.
Yuve Yuve Yu.
Shireg Shireg.
Song Of Women.
The HU band line up :-
Enkush – Lead morin khuur/throat singer.
Jaya – Jaw harp/tsuur/flute/throat singer.
Gala – Lead throat singer/morin khuur.
Temka – Tovshuur/backing vocals.
Touring band members :-
Jamba – Support guitars/backing vocals.
Batkhuu – Support bass guitar/backing vocals.
Odko – Support drums/backing vocals.
Ono – Support percussion/backing vocals.
For more information on THE HU, visit:
WEBSITE // FACEBOOK // INSTAGRAM // TWITTER // YOUTUBE