This is a two DVD release that could easily have been released as two separate DVDs. The first DVD, CURÆTION-25: From There To Here | From Here To There, was filmed at the Royal Festival Hall on 24th June 2019, the tenth and final night of the 25th Meltdown festival which was curated that year by Robert Smith. The second disc, Anniversary was filmed at their show in Hyde Park on 7th July 2018. So you've got two live shows for the price of one really.
In terms of the video quality, the clear winner for me is the Hyde Park show. Filmed in daylight it's nice and clear, even if you lose the atmosphere that goes with performing in a dark venue. The Royal Festival Hall show suffers badly in places from a lack of coordination between the film crew and the lighting engineer. It's not unique to this release – it's very common, and the issue is the lighting engineer uses a lot of Blue LED lighting which looks truly awful on film or in photos. Changing the lighting colours used would have improved the DVD quality immensely. Happily though the audio quality on both discs is excellent.
With these shows marking the 40th anniversary of The Cure, the band have gone all out with the setlists. The Royal festival Hall show featured songs from every album the band have released as well as a couple of songs that hadnt been released. You'd be forgiven for assuming the Hyde Park show would be a fairly similar setlist but clearly mindful of the fact that many fans would attend both, the Hyde park setlist was very different, with only a small number of songs appearing in both shows, so between the two discs there are 50 different sogs performed out of 57 songs in total. That's a hell of a lot of songs and with both the shows being long sets it's great value for money.
It's strange – at the height of the Cure's success I never really listened to them very much by choice (although on any night out you were guaranteed to hear something by them), and it's only now when I've sat through several hours of DVD viewing that I really appreciate just how good they were and indeed still are. For fans there's a hell of a lot here to enjoy, and equally if you're someone who only knows a few songs by The Cure then this release still has a lot to offer.
The 2 DVD release comes in a hardback book style package that looks and feels great – it's the sort of detail that makes a big difference.
An excellent live release.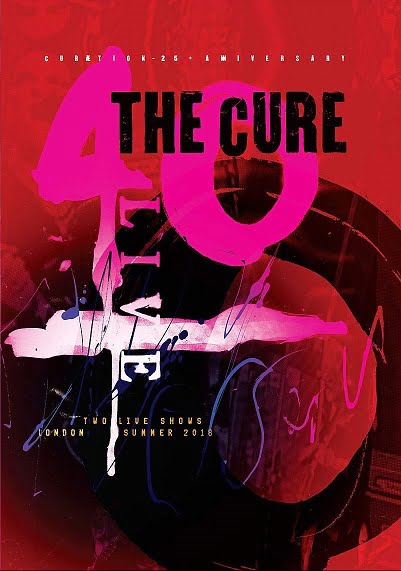 CURÆTION-25:
From There To Here:
1. Three imaginary boys
2. At night
3. Other voices
4. A strange day
5. Bananafishbones
6. A night like this
7. Like cockatoos
8. Pictures of you
9. High
10. Jupiter crash
11. 39
12. Us or them
13. It's over
14. It can never be the same
From Here To There
1. Step into the light
2. The hungry ghost
3. Alt.end
4. The last day of summer
5. Want
6. From the edge of the deep green sea
7. Disintegration
8. If only tonight we could sleep
9. Sinking
10. Shake dog shake
11. One hundred years
12. Primary
13. A forest
14. Boys don't cry
Anniversary: 1978-2018 Live in Hyde Park, London
1. Plainsong
2. Pictures of you
3. High
4. A night like this
5. The walk
6. The end of the world
7. Lovesong
8. Push
9. Inbetween days
10. Just like heaven
11. If only tonight we could sleep
12. Play for today
13. A forest
14. Shake dog shake
15. Burn
16. Fascination street
17. Never enough
18. From the edge of the deep green sea
19. Disintegration
20. Lullaby
21. The caterpillar
22. Friday I'm in love
23. Close to me
24. Why can't I be you
25. Boys don't cry
26. Jumping someone else's train
27. Grinding halt
28. 10.15 Saturday night
29. Killing an arab
An excellent live release that could easily have been released as 2 separate DVDs instead of this great value release.