Slash – Living the dream tour or to give it the full title, "Slash featuring Myles Kennedy and the conspirators – Living the dream tour" is the new live release from Slash and Myles Kennedy. As the name suggests, it was recorded on the tour that followed the release of the last studio album – Living the dream. It's available in variosu formats – DVD,Bluray,CD and Digital download. It was recorded and filmed at the Hammersmith Apollo in London.
The CD version (actually a 2CD,1DVD version) features the full show – 22 tracks spread over two CDs, making it a nice long set. The DVD then gives you the full show plus a bonus feature with behind the scenes footage.
As fans know well, Slash and Myles Kennedy are a great partnership – Slash being a fantastic gutiarist, and Alter Bridge singer Myles Kennedy having a fantastic voice, and together it works brilliantly. Myles is also a great frontman which leaves Slash to focus on his guitar playing. Given the fact it was the "Living the dream" tour then it's no surprise that album features heavily in the setlist, with 7 songs from the 12 on the album making it into the setlist – having that many shows how confident they are in the material on the album. Slash has done enough solo material now that he doesnt have to rely on Guns'n'Roses songs to fill up the set, and more importantly he's got enough good songs that he can do a show with little to no GnR material included without the fans feeling disappointed. On this tour and on this live release there's just one Guns'n'Roses song – "Nightrain".
The CDs are great – lovely clear sound and a great mix. The DVD sound too is excellent and the picture quality is top class too. There's good use made of the multiple cameras that were used to film the show and it's well edited – camera angles change frequently to keep pace with the action but it's not the overly fast changes that I've seen on some DVDs that can really ruin your enjoyment of a DVD.
A great live release.
Track Listing: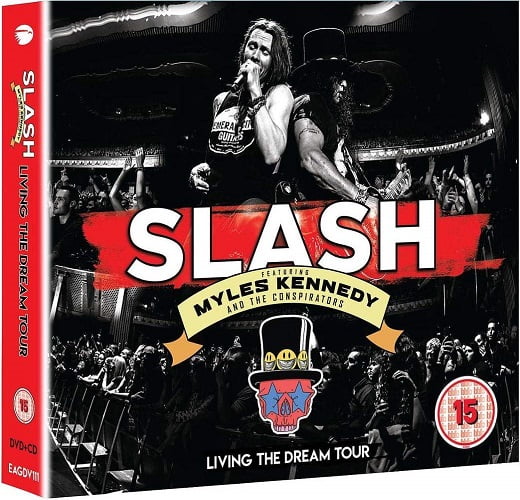 CD 1
1. The Call Of The Wild
2. Halo
3. Standing In The Sun
4. Ghost
5. Back From Cali
6. My Antidote
7. Serve You Right
8. Boulevard Of Broken Hearts
9. Shadow Life
10. We're All Gonna Die
11. Doctor Alibi
12. Lost Inside The Girl
13. Wicked Stone
CD 2
1. Mind Your Manners
2. Driving Rain
3. By The Sword
4. Nightrain
5. Starlight
6. You're A Lie
7. World On Fire
8. Avalon
9. Anastasia
A great live release - 2 CDs and a DVD