Northern Ireland will always bring a big smile to my face. Not only as it's my homeland, but there are a hell of a lot of great bands with huge energy, a lot of passion, spirit and soul throughout. A lot of Northern Irish bands seem to get overlooked somehow where in my ears and eyes some of the best music and artists come out of our wee country, with The Answer being one of the bigger guns in rock and metal.
The Answer slowly became noticed in the rock and roll scene internationally, through releasing a couple of stomping great rock albums. Touring with rock giants AC/DC over a couple of years would also have done them the world of good, displaying their superb live credentials. More recently The Answer's third album "Revival" showed how much they grew together as a band, and honed in on their creative writing skills to astonishing effect. Now The Answer are about to let loose their fourth album "New Horizon", and this is one beast of an album.
First track "New Horizon" is a great stomping rocker to start us off with.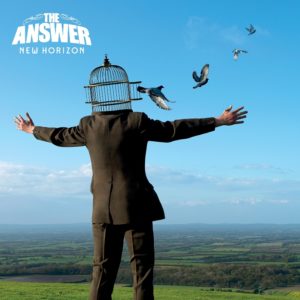 Nice melodic verses with slight heavier riff work during the chorus. There is a positive vibe and energy that is felt in both the music and lyrics. "I'm Searching for a new horizon, I wanna break through to a new horizon". It is something that I'm sure most people will be able to identify with. "Leave With Nothin" has that classic The Answer feel to it. The intricate guitar work from guitarist Paul Mahon is sublime throughout this track. It grooves along nicely, is melodic and again has that positive energy that also flows throughout this album.
The first track The Answer previewed, along with a video release "Spectacular" takes me back to my younger days. Maybe watching the explicit video for this song reinforces this for me! Again the positive messages come across. Live life the way you want, you could be spectacular. This is a nice little rocking song with plenty of catchy hooks to make you smile.
Possibly, my favourite track on this album "Concrete" is perhaps one of the heaviest songs I have heard from The Answer. This one is very bass heavy with great sounds coming from the bass of Micky Waters, complete with superb rhythms from drummer James Heatley, and real gritty vocals and growls coming from vocalist Cormac Neeson. I do hope its one The Answer performs on their forthcoming tour. This is one track I look forward to hearing live.
Longest track on the album "Call Yourself A Friend" starts off gentle with just vocals and a guitar, but it then builds up and rocks hard. Towards the end, it finishes with a nice if brief, instrumental jam. Done live there would be a perfect opportunity to extend this jam! It is a really great song. Another favourite, "Baby Kill Me" is heavily laden with some Zeppelin in its sounds and riff work. A great classic blues infused rocker, with plenty of hooks that will have you dancing and grooving along, lovely. "Burn You Down" is another track with heavier riff work. Guns N' Roses or Velvet Revolver springs to mind when I listen to this song.
For me "New Horizon" is another step upwards and forward for The Answer. It is both melodic and heavy in so many places. You can feel the energy and it is full of positivity, both within the lyrics and the music. Cormac Neeson writes concisely, and intelligently, with The Answer's strongest material to date. I can't help grinning when listening to this album. The album flows easily and freely as it moves along, taking you in with lots of great riff work, catchy grooves and music you can dance to, shake your ass to, tap your toes to, sing along with. I must also add that the album artwork is striking and artistically portrays a sense of freedom and a "New Horizon". Sadly this is one of the last pieces of artwork from renown and legendary album artwork graphic designer Storm Thorgerson(Pink Floyd/Led Zeppelin/Muse), who passed away earlier this year and will be sadly missed. "New Horizon" is a huge feel good album that just gets better the more you listen to it. There is a lot of rock, a lot of roll, infused with the blues and hell of a lot of soul. Without a doubt, The Answer's best work to date!
"New Horizon" is released through Napalm Records on 30th September 2013
Track List:
1. New Horizon
2. Leave With Nothin'
3. Spectacular
4. Speak Now
5. Somebody Else
6. Concrete
7. Call Yourself A Friend
8. Baby Kill Me
9. Burn You Down
10. Scream A Louder Love
The Answer are:
Cormac Neeson – Lead Vocals
Paul Mahon – Guitars
Micky Waters – Bass Guitar
James Heatley – Drums
Visit The Answer at:
www.theanswer.ie
www.facebook.com/theanswerrock
www.twitter.com/theanswerrocks