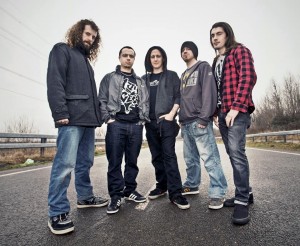 :[Ten Cent Toy]: are set to play the New Blood Stage at this years Bloodstock festival on Saturday the 10th August.
We catch up with the band to find out more about them, the festival, their thoughts and what you lucky Bloodstock go-er's will see!
Can you give the readers a quick introduction to the band.
Hi, We're Ten Cent Toy from Newport, South Wales. We like circle pits, stage diving, good times and writing really angry tunes that make you hulk out. We've been about for a few years now, and everythings clicking into place nicely.
How would you describe your sound.
We play sorta groovy, crushing metal, as fast as possible. For fans of Lamb of God, Slayer, Meshuggah, American headcharge.
Why did you want to become part of the New Blood Stage line up?
Playing bloodstock has been a goal of ours for a couple of years. After getting pipped in 2011 by Intensive Square (who are truly brilliant and deserved it) we took 2012 to record and release our first album "Off The Grid" and came back at it this year with an improved line up and the backing of the best fans a band could wish for.
It was initially about playing the festival, but it became so much more when we realised how important it was for our fans that we get there. They humble us with their awesomeness. Anyway, it's Bloodstock: Gojira, Lamb of God, Earthtone9… Loads more slamming acts. It's an honour to be chosen.
What was your initial reaction when you found out you were playing on the New Blood Stage?
I think we went a bit mad. We'd put so much into the shows, I mean, it's a really important thing for us to play tight and also have a good stage show, so we were all ramped up on adrenaline and a good chunk of fear. I remember the room erupting and hugging my band mates. I think we looked at each other and kinda wondered if it was actually happening.
What can the audience expect from you at the festival.
Huge chunky tones, a drummer from hell, incineratingly harsh vocals, High energy performance and the most fun you can have with your clothes on.
What has been the bands biggest achievement so far?
It's have to be getting to bloodstock. We've played Hammerfest before, gone around the country and into Europe, put out a record ourselves, but this is immense; especially after losing a couple of years back. That really made us go for it guns blazing.
Have you ever been to Bloodstock before? If so when and what did you enjoy most about it.
Sadly I am a bloodstock virgin. Go gentle with me.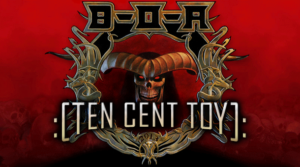 What is your opinion of the Bloodstock line-up.
Slamming. People can complain about Lamb of God all headlining all they like, we love em. Anthrax followed by slayer is gonna be immense, and there's so much talent on the Newblood and Lancaster stages; We're looking forward to seeing Gehtika, Karybdis, Prosperina, and Lifer again.
What are you looking forward to most at Bloodstock.
Playing the show! Gotta be that. We're grinning like idiots. We might well be idiots.
Can you sum up Bloodstock in one sentence!
Metal. As. Fuck.
Any message you wish to pass on to the PM readers
I guess I'd like to invite them to check us out on the Newblood stage, 16:30 on Saturday. There will be cake.
Thank you for taking the time out to complete this interview, we are looking forward to seeing you at Bloodstock \m/ \m/
Links:
https://www.facebook.com/tencenttoy
https://twitter.com/TenCentToy‎