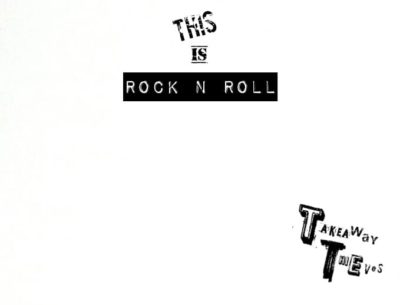 Formed just over a year ago, I've seen early promise a few times from the Takeaway Thieves at the Waterloo Music Bar in Blackpool and they have carried that vibe with them into the studio for their debut EP This Is Rocknroll ,currently available on CD and digital music sites iTunes, Spotify, Apple Music and Amazon.
Current single 'I Wish You Were Dead' eases in on a bluegrass like acoustic mood that heads full tilt into raunchy sleaze with an earworm main riff. The paint stripping vocals from Peter McLoughlin include the no love lost  "I don't like you I wish you were dead. Hang yourself, put a bullet right through your head". The guitars of Neil Hunter and Ben Gibson rage away until the intro calms things down. 'Stardust' is all demolition ball heavy powerchords backed by a lascivious vocal delivery to match the nudge nudge, wink wink theme of the lyrics and air guitars are mandatory for the over the top solos!
'Slippin Slidin' is all early Motorhead like bluster pinned down by fat greasy riffs held in place by the powerhouse rhythm section of Adam Hall on bass guitar and Max Yates on drums. Sugar sweet vocals soothe and the instrumental midsection is like being in the eye of a musical tornado. The title track closes this quality release and it lives up to its title as the fuzzed up riffing drives it along at proto punk speed, nothing fancy as it hurtles along from start to finish on a wave of gnarly riffs and solos and a chorus we can all relate to! "This is rock and roll, burned down to my soul. This is rock and roll, I love, I need rock and roll".
This Is Rocknroll EP track listing :-
I Wish You Were Dead.
Stardust.
Slippin Slidin.
This Is Rocknroll.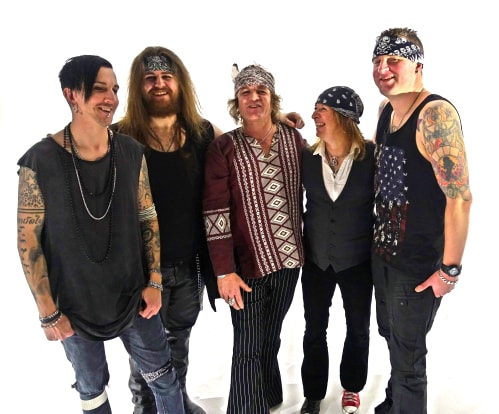 Links: – 
Band Website: www.takeawaythieves.com
Facebook – www.facebook.com/takeawaythieves/
Instagram – www.instagram.com/takeawaythieves
Spotify – https://artists.spotify.com/c/artist/0pMkpROOW6rJdPFBoB805q
Twitter – www.twitter.com/takeawaythieves
A 4 course feast is served up by the Takeaway Thieves on their debut EP This Is Rocknroll. Take a bite!