Not to be confused with an Australian band from Melbourne with the same name, Rotherham Sludgers Swamp Coffin deliver us an EP of pure doom and gloom all rolled into thirty four minutes of depression.
Musically, it's not much different to the Sludge kings already out there in the form of Master Charger and Ten Ton Slug. But vocally, Jon Rhodes ' vocals rip through his throat like a rusty Stanley knife blade……sideways. I can compare some of his lyrics with early Raging Speedhorn.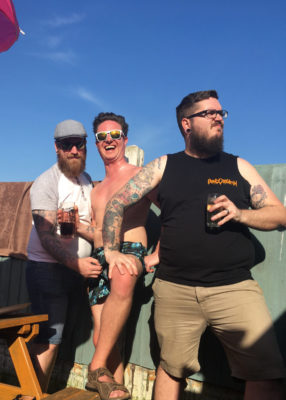 Guitar riff-wise, there's some nice ideas oozing out of Jon's playing. Some very nice Sabbath-esque rolls. These are clever because they sound like they were played back in the 70's. Don't get me wrong, this band are extremely heavy and all tunes are slow burners. It's what I call 'Lazy Metal'. It plods along but to great effect.
Even though there are only four songs here, they are monsters. The longest clocking in at eleven minutes, the shortest, six minutes. The only problem I have with this is that they tend to lose a little bit of their punch because they are so long. But they still work, because that is what Sludge is.
'Last Of The Summer Slime ' is a killer track. As depressive and intense as you can imagine, as are all songs here, which makes this extended EP a very strenuous listen indeed. Still, it's highly enjoyable and thoroughly recommended, and it will keep you on the edge of your seat for the whole thirty four minutes.
Track-List:
1 – Blood In The Water   2 – Annihulus   3 – Black Shirt, Blacker Sabbath   4 – Last Of The Summer Slime
Line-up:
Jon Rhodes – Vocals/Guitar   /   Shawn Denton – Bass   /   Dave Wistow – Drums
Links:
Release date: 23/08/19. Running length: 33mins 53secs. Sludgy Doom as it should be.