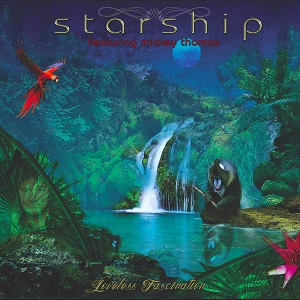 In the beginning there was Jefferson Airplane and they were a great band.  After Jefferson Airplane split up several former members created a new group – Jefferson Starship.  They in due course changed their name to Starship, under which name they had massive hit singles with "We built this city" and "Nothing's going to stop us now".  All simple so far but then things get more complicated.  As Starship split we got two new groups – "Jefferson starship – the next generation" and "Starship featuring Mickey Thomas".  The former has changed their names and tour as Jefferson Starship.  So the current band Starship is a different one to the Starship that had the hit single, with just a single member linking them.  With both Starship and Jefferson Starship still touring, and Starship now releasing a new album, it's a confusing situation.
One key difference between the classic lineup of Starship and the current version is that Mickey Thomas is now the only singer, whereas the classic lineup had both male and female vocals.  There's also more of a rock basis for the album, but it does still have some of that same pop feel to it that fans enjoy.  Really what you have here is a really good solid melodic rock album.
Mickey Thomas has a great voice – powerful and versatile, and his voice is definitely the focal point for most of the time.  The music is well done melodic rock – heavy enough that it's firmly rooted in rock territory but with a very radio friendly sound.  There aren't really any weak songs here but equally while there are some very good songs, there aren't any that are likely to become big hits.
It's a very good album, and it's particularly good to see Starship releasing a new album – their first since 1989.  Fans of melodic rock and AOR should definitely give this album a listen.
Track listing:
1. It's not the same as love
2. How do you sleep
3. Loveless fascination
4. What did I ever do?
5. Technicolour black and white
6. Where did we go wrong?
7. How will I get by?
8. You never know
9. You deny me
10. Nothin' can keep me from you