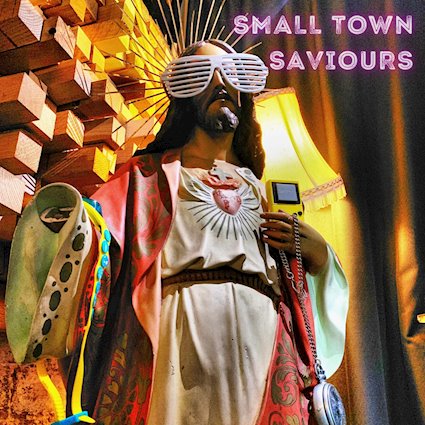 Welcome back Small Town Saviours, the berks from Berkshire have returned kicking and screaming to save us from mundane music with a bakers dozen of feel good songs on their forthcoming self titled debut album due out on January 27th 2023 on all digital platforms!
They class themselves (and quite rightly so) as all upbeat energy, gargantuan riffs, catchy choruses and melodic harmonies that are their main ingredients contagious sound, point proven by these thirteen tunes begin with the fast and furious 'No Rats, No Snakes, No Second Takes' as the lyrics are spat out at auctioneer speed by lead vocalist Lance Skybaby. Staccato riffs career towards the song title bellowed out with a gang like delivery, ending on a razor sharp guitar solo and snare driven outro.
There's no pause for breath as 'E.N.E.M.Y' starts with a wah-wah wail for another raging riffer as well as being hypnotically catchy but still packs a punch with a Motorhead don't fu*k with me attitude!.
The heaviness ante is raised by 'The Drinking Song'. They thrash it out with aplomb, pinned down by strong bass lines, lyrics created as if written on beer mats and "Whoa oh ohh" fuelled choruses.
'Cry' is a bit of a mischievous song as it eases along like the Beach Boys with tongues firmly in cheeks for a tale of love lost that's beefed up by some meaty riffs and choruses catchier than an STD!
'London Ain't Calling' seems to be a shout out to early punk bands but where are the new breed to take over the torch? Riffs are pogo inducing with lyrics that include "Sids still snoring, London Ain't Calling, Joey is sedated, Johnny's still hated". Appropriately it ends with a spit!
'Home Town Hero' is a spiky song befitting the frustration of losing your drinking mates but this gritty number also throws up some luscious choruses and surfing guitar lines.
'Translation Invariant' is a romper stomper that also grounds and pounds taking no prisoners on the way, offset by choruses that eerily reminded me of 'Heavens On Fire' by KISS!
'It's All Going To Hell' is a rock and roll rollercoaster white knuckle ride of raging riffs that fire up the frustration of the lyrics that seem to portray the ineptitude of the government. Calm is restored though by a three minute outro of a glorious guitar workout.
A slight drop in pace in 'Ride It Out' loses none of its power as this soul searching melodic rocker ebbs and flows towards sugar sweet choruses.
'Drama Queens' is an unstoppable force of driving riffing, wrist snapping snare work and a gnarly vocal delivered with a Billy Idol sneer.
'Boy Who Cried Wolf' sees the spotlight stolen by the watertight rhythm section of T.Bone on bass guitar and Carl D on drums as they surge along throughout this hefty headbanger!
'Wild West (Berkshire)' is easily my album highlight that lights the blue touch paper for a rooting tooting shuffle that brought to mind The Shadows in their prime until it switches to an all guns blazing boogie barrage of speaker rattling riffs.
This highly impressive debut ends on 'Moving On', another heavy opus so get those air guitars out and throw some shapes for some slamming riffs and shout em out loud and proud choruses!
Info for the Small Town Heroes is here :- https://www.facebook.com/smalltownsaviours I https://www.instagram.com/smalltownsaviours/ I https://open.spotify.com/artist/3WKUGyKqDtDogOKxksdxyR I https://www.youtube.com/channel/UCAV5V-BB4cPdLDLx7Yo_4ZA
Small Town Heroes album track listing :-
No Rats, No Snakes, No Second Takes.
E.N.E.M.Y
The Drinking Song.
Cry.
London Ain't Calling.
Home Town Hero.
Translation Invariant.
It's All Going To Hell.
Ride It Out.
Drama Queens.
Boy Who Cried Wolf.
Wild West (Berkshire).
Moving On.
Small Town Heroes band personnel :-
Lance Skybaby – Guitar/Lead Vocals.
T.Bone – Bass Guitar/Backing Vocals.
Skinny Pete – Guitar/Backing Vocals.
Carl D – Drums/Backing Vocals.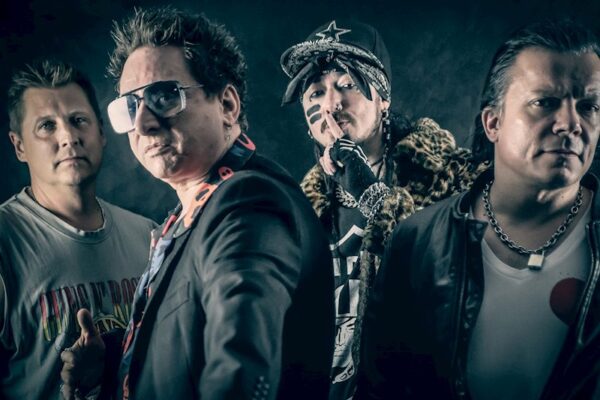 Hand over the keys to the city as the Small Town Heroes riff it up with their self titled debut album!