SMALL TOWN SAVIOURS will release their intoxicating self-titled debut album, on Friday 27th January 2023. The popular rock crew have also set loose an alluring new single and video for E.N.E.M.Y, out now – https://youtu.be/X0jk8AtdVNQ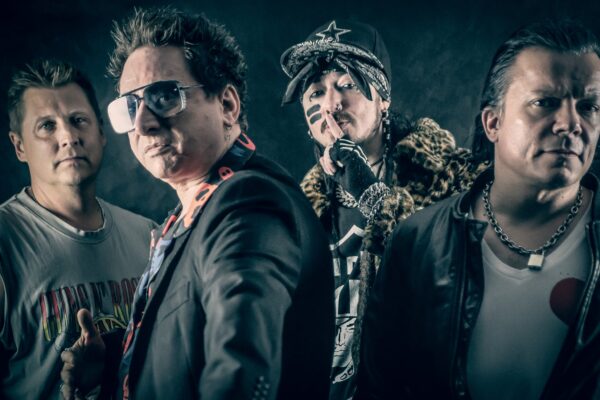 Buoyant energy, gigantic riffs, contagious choruses, and melodic harmonies are the key fundamentals to SMALL TOWN SAVIOURS's infectious sound. With a mutual affection for The Ramones, Guns N Roses, Green Day, and Kiss, SMALL TOWN SAVIOURS have built a solid reputation by delivering explosive live performances backed with a potent back catalogue. Although the UK rock 'n' rollers were only born in 2019, the industrious quartet have still managed to play shows constantly throughout England whilst laying down plans for their debut album.
With the stage now set, the hi-octane rockers will soon drop their much-awaited self-titled debut album. Drawing upon a wealth of personal experiences and telling stories about life, the band have continually developed and refined their craft, and this is witnessed on their debut record. The band remark about the album: "It's a thirteen-track journey presented via different musical styles that we love. From Rock, to Country, Punk to Metal, each telling its own story. We cut the album with Dave Draper, who recorded, produced, mixed, and mastered the record, it's the perfect partnership to sonically capture and present our musical vision with powerful, blistering effect."
A flood of live shows are set to be announced, along with details about further singles and videos, so stay tuned to the band's socials for more, and strap yourself in, as 2023 promises to be a raucous ride for SMALL TOWN SAVIOURS.
Track listing: 1. No Rats, No Snakes, No Second Takes, 2. E.N.E.M.Y, 3. The Drinking Song, 4. Cry, 5. London Ain't Calling, 6. Home Town Hero, 7. Translation Invariant, 8. It's All Going To Hell, 9. Ride It Out, 10. Drama Queens, 11. Boy Who Cried Wolf, 12. Wild West (Berkshire), 13. Moving On.
https://www.facebook.com/smalltownsaviours
 https://www.instagram.com/smalltownsaviours /