To celebrate one year since the release of their debut album Faithless Rituals and what would be the start of 12 months of uncertainty for everyone, the band challenged Kayley & Maxwell to create a series of podcasts that explores a deeper insight into the band and the recording of their debut.
Singer Kayley "Hell Kitten" Davies & Drummer Maxwell Harvey William Newsome III present a three part podcast taking you deeper into the workings of Sky Valley Mistress as they mark the celebration of 1 year Anniversary of their debut album Faithless Rituals.
Now you know what's in store, what are you waiting for?
Episode one they talk about their road to the legendary Rancho de le Luna, California and meeting their Religious Leader and Spiritual Advisor, Dave "Dream Catcher" Catching.
Episode 2 hear some of their stories about hanging out with the Arctic Monkeys, dancing vaginas and finding the Fun Machine and lastly episode 3 goes deep into the secrets on the album, the artwork the music and into the concepts and ideas behind the LPand yes, all you need to know about the board game?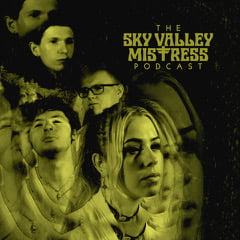 Listen to the Sky Valley Mistress podcast, all 3 episodes available to stream on all platforms now!
There are still a few copies of the Ltd Edition Sky Valley Mistress acoustic sessions CD EP left which is out today.
This EP forms part of the New Heavy Sounds 10th Anniversary Series of releases and contains 4 acoustic of tracks from 'Faithless Rituals'. Limited to just 150 copies and available by mail order from Bandcamp and Cargo Records.
Bandcamp: https://skyvalleymistress.bandcamp.com/album/acoustic-session-e-p
Cargo Record: https://cargorecordsdirect.co.uk/products/sky-valley-mistress-acoustic-session-ep

Sky Valley Mistress are: Kayley "Hell Kitten" Davies (vocals), Sean "Starsky' Berry (Guitar), Russell "Russell" Russell (Bass), Maxwell Harvey William Newsome III (Drums/Percussion)

www.facebook.com/skyvalleymistress|www.facebook.com/newheavysoundshttp:// |www.newheavysounds.com