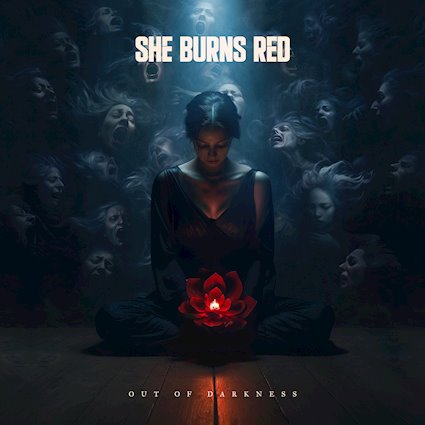 For a debut album this is very very impressive as West Lothian, Scotland based She Burns Red have pulled out all the stops for Out Of Darkness, made up of nine shimmering songs, produced, engineered and mixed with full force by Matt Elliss and an eye catching cover by Andy Pilkington at Very Metal Art.
Album opener 'Touch' is far from a touch, more like a left hook to the jaw as this rivetting riffer flies out of the traps and crossing the finish line, following a dollop of chest beating vocals from Andy Moore and unrelenting rhythms that could test the strength of any venues P.A system!
There's no pause for breath as 'Rise And Fall' sees them channel their inner Motorhead to bring the hammer down for some serious headbanging inducing heavy metal. Stomped verses precede anthemic but also melodic choruses and a finger bleeding guitar outro solo.
An instantly memorable intro main riff for 'Killing Time' eases back for a brooding chorus, gaining momentum towards a midway change of pace courtesy of some seriously potent riffs, bass bludgeon and a wall of death inducing outro of over the top fretboard fury.
'Crosshairs' has rock radio airplay written all over it, a power ballad with balls and heart worn on sleeve lead vocal provides a palette for guitars that writhe and churn with glee and miraculousy gain strength for an overwhelming outro!
An earworm melodic guitar laden intro to 'Heavy Is The Head' heads off to the highway for this song to hit stratospheric heights courtesy of a vociferous vocal, prominent bass stabs, shout em out loud and proud choruses, closing on a more menacing vocal, inventive drum patterns and air guitar inducing solos.
Deftones like tinged beauty caresses 'Run' with laid back soundscapes but riffs are set to weapons of mass destruction levels. A pleading lead vocal stands its ground as riffs gain power for a tumultuous outro.
'Stronger' is four minute romper stomper of a lung busting vocal tour de force as emotions erupt around grinding riffs, over the top guitar solos and a watertight rhythm section.
'Crack The Sky' drops the pace but loses no power as they shake the foundations with a slamming delivery, a clenched teeth vocal and band backing vocals for an intriguing listen.
This major rager of an album ends all too soon as they save their best until last (in my opinion) with the adrenaline fuelled album title track 'Out Of Darkness'. It's a magnum opus as jarring rhythms claw at your very soul to draw every last drop of emotion out of the listener!
The album follows their debut EP Take Back Tomorrow from 2020, produced by Toby Jepson.
Out Of Darkness will be self released on September 15th 2023 and an album launch show on September 9th will be held at Glasgow Audio!
Wise words from the band see them proclaim, "Hope, trust and humanity are not just words, it's everything we're fighting for, it's everything we are!"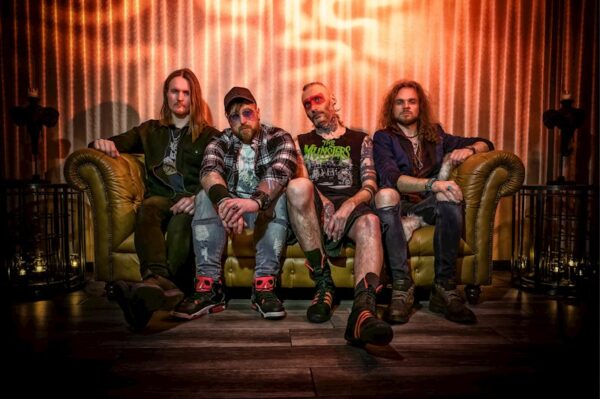 Band links are here :- http://sheburnsred.com I https://www.instagram.com/sheburnsredband/ I https://www.facebook.com/sheburnsred I https://www.youtube.com/@sheburnsredband I https://open.spotify.com/artist/5axwjwMP8gsMNEOvzbE6DP
Out Of Darkness album track listing :-
Touch.
Rise And Fall.
Killing Time.
Crosshairs.
Heavy Is The Head.
Run.
Stronger.
Crack The Sky.
Out Of Darkness.
She Burns Red band personnel :-
Andy Moore – Vocals/Guitar.
James McCulloch – Vocals/Bass Guitar.
Naz Scanferlato – Guitar.
Scott Hanlon – Drums.
She Burns Red ignite with their molten lava hot debut album Out Of Darkness, due for self release on September 15th 2023.