FROM ZERO TO LOCAL HERO'S and CHART TOPPERS an Interview with Gary Doyle of SCARLET REBELS at The Waterloo Music Bar
Tonight is the first gig of many upcoming Tour Dates for Scarlet Rebels. The band is no stranger to The Waterloo Music Bar in Blackpool. With fans, travelling from afar and near for some live action, now gigs have returned after Covid brought an almost two-year hiatus.
The ambience of tonight's show is electric, and the crowd are out to enjoy themselves, with many smiling faces as they sing along to songs old and new, swigging beer and having a rocking good time. For these are memories in the making for not just the band but the punters too!
I was not really expecting to get an interview with the band, so many thanks to stick-man Gary Doyle for being gracious and indulging us after their show tonight.
''Welcome Gary, and thanks for chatting with us at PlanetMosh. I think you had a great show tonight, the first of your tour dates…''
Gary – ''Yeah, yeah, it's been brilliant to get out on the road again and really exciting, it was a great turn out, so really 'chuffed with it''
''You had a great crowd and everybody loved you tonight.'' – ''I know you used to be called V0ID – can you tell us how you became known as Scarlet Rebels?''
''Okay, so we were V0ID for years and years, and we slogged our guts, going up and down the M4 and UK for gigs and no-one could find us on social media and we didn't have any presence.''
''We played HRH (Hard Rock Hell) and HRH Ibiza and we're outside after we played and a lot of people came up to us and said we really enjoyed that gig but can't find you on social media. '' 'So, Wayne took a phone off one of them and put in 'V0ID' and it didn't come up! ''For some reason our ex-management, stamped the 'O' of V0ID as a zero, which was meant to be a cool thing at the time but it just didn't work!'' ''So we decided to change the name of the band.''
"Back in Wales there is a beer called 'Tiny Rebel' so I said to Wayne ''I quite like that name rebel'' what about something 'rebel' and Wayne said ''what about Scarlet'' ''As we are from Llanelli and there's a rugby team called Scarletts''. So, yeah that is how we came to be Scarlet Rebels and everyone took to it and it's easy to find too!"
It sure is easier to find. And that is how you came to be!! Awesome!!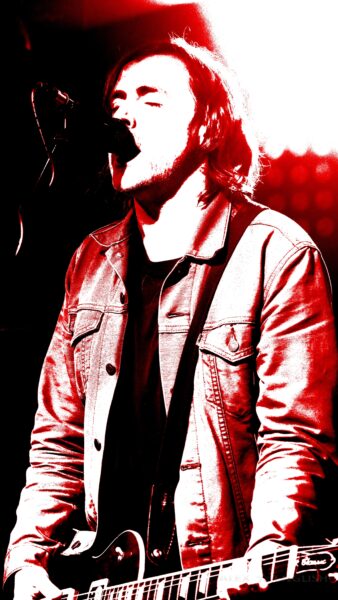 ''So you guys have your new album out 'See Through Blue', and you've had such an amazing journey with that so far. You broke into the UK top 10 and hit the charts at no 7! That's mind-blowing!! Did you record the album during 'lockdown?'
''Yeah, we did, it was tough because we all had to go into the studio separately due to Covid, myself and Wayne were in a bubble 'cause were brothers.'' ' Wayne would go in and put a lot of demo tracks down.' 'Chris went in'', 'Josh went in 'and I got sent the demo tracks and I played along to it! Everyone built on it from there. In addition, whilst that was going on Wayne was sitting in his house watching TV, noting everything that was going on and writing his lyrics. It just happened to come about 'he is good with words and what he was seeing'  'he didn't like it', so put them into songs
And that's how the See Through Blue album came to be…
''Yeah, Wayne was seeing everything going on in the news at the time and how political parties were running their campaigns and the UK and he didn't like it, so he basically decided to sing about it!
So going back to how the songs are created, how does that come about? Does Wayne say ''I've wrote some songs….''?
''Well, for example, Chris would send some riffs over, and go what do you think of it?'' We'd go ' Ahh, that's cool let's work on it. Wayne would work on the riff too and they'd come together. And the same with Josh writing something on the piano, he'd send it over and so erm, 'we would build on it from there.' 'But, yeah going back to Wayne he's pretty much the main guy.'
Ha ha so Wayne is the maestro?
"Yeah, he's the main guy, the songwriter, there's no escaping he's the boss!  But he's brilliant at what he does and I wouldn't want anyone else to try and take over. What he does writing-wise is brilliant and what he does on stage is!"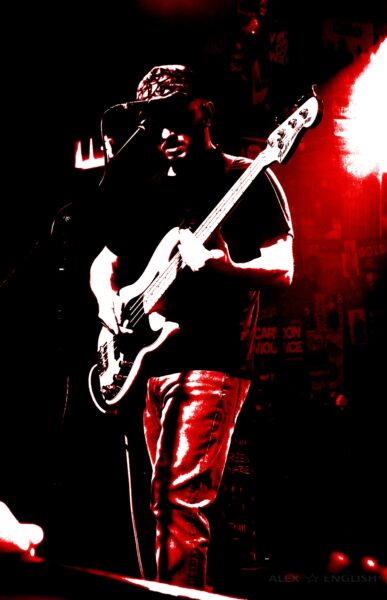 I'm not sure if you're best the band member to answer, but here goes:  ''On your first album ' Show Your Colours'  you have a song called 'Take My Breath Way'  and after hearing 'London Story' on the new album  I'm noticing a narrative arc?  Is it retrospective writing or is one of you a hopeless romantic looking for a special someone to walk in and fulfil your life?"
"None of us is romantic (laughs), there's no roses being given out there (more laughter)"
"To be fair 'London Story', 'Josh' came up with the riff and the song was called something  else at the time.' So when we recorded it and put the drums on, it was sounding really cool and Wayne came up with the lyrics and he kinda wrote it about a guy falling in love with a girl in London; as Josh lived in London at that time. "I don't think there's anyone who's really over romantic" (laughs) 'I dunno '– ''it kinda worked and was something we could write about. A modern-day Romero and Juliette story ''
I love the ambience of that song
"Yeah, it's so different, it's a rock n roll song but with a different beat and feel. When people listen to it as first, they're like 'what's that' but after a while, they are like 'yeah"
I agree, I liked the song from the off, ''so is there some story going on here?''
"You'll have to ask Wayne that!!" (laughs)
Congratulations to you guys on your charitable work from encouraging fans to bring food donations to your gigs. And most recently you got your legs out to undertake a virtual 100-mile bike ride across Wales in one night on your Facebook page (which I did catch some of online)
''Yeah, we were looking at things in the world and noticed there is a lot of struggle in the world right now that no one talks about.' 'and it's getting worse day by day'. "We just asked if there was anything small we can do to help or people can do. So, we started off small asking fans to bring anything from a tin of beans to show and the first show we did in Cardiff, we struggled after to get all our gear and the donations in the van. People seem to like the idea of going to show to help people."
We do, and I think it is a fantastic idea. So, up North, we've also been doing that here to support the local food banks. People don't seem to realise how serious this is…
"Its getting worse"
It is and its sad that this has now become a part of our lives
"I agree, and when Wayne was watching the TV and saw footballer Marcus Rashford campaigning for school kids to get free schools meals during the lockdown 'he wrote the lyric' ''the government didn't feed their kids'' – and thinking about it, we thought about how we could help in our own way."
And, you did, you raised your hand and said this is how we can help do our bit by donating to the local communities, by just donating to the food banks. Which, is excellent especially when it wasn't on our own Government priority list, which was sad
"It still is sad that children go to school and aren't fed!"
"It really is, I cannot imagine my own child going to school without, and it's really hard that all these people can't afford to. If foodbanks help them let us do it more. If each person at a gig took one thing that's a big difference!"
I agree, it can make a big difference to those people who are striving to survive. Well done and do keep promoting that.
"The Waterloo Bar is sending our donations from tonight to Ukraine."
That's a great cause right now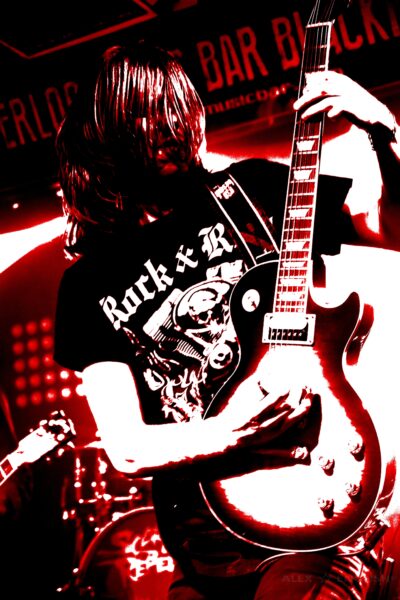 Spotify has been getting a bad rep of late –  But do you use it to give yourselves an insight into the songs your fans are loving. 
With this in mind – does it have any influence on the creative sound of Scarlet Rebels  – like will you break the current sound of Scarlet Rebels and deliver something unexpected?
"What we've always done as a band, even when we were V0ID before Chris and Josh joined. We've always played what we like, and we'll record it and if we record it and it's not so good, then that doesn't make the cut! I think it's more the fact of what 'we feel' when we are playing. When Wayne or Chris, Josh or Pricey bring a melody and if we all start playing along 'a song can grow from there' 'I don't think we will be looking at what everyone likes and going let's write this because we will end up becoming the band that plays the same songs."
Yeah, and Spotify, they don't pay you back much at all...
"But it's easy to access for people to find music and new bands and we can see the popular songs the fans like."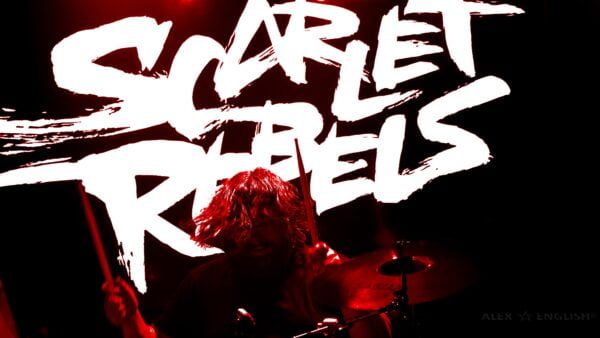 The last two years have been quite exhausting and difficult for many people and their mental health has suffered as a result.
You have some poignant songs 'Save Me', 'I Can Sleep Now' and 'Mother Mary' – they sound very personal or maybe they were written figuratively (maybe we need Wayne here ) – Is there a 'head in the sinking sand', 'what is the message behind the lyrics' – 'can you tell us more?'
"Yeah, sometimes when you hear the lyrics for the time it can take you by shock but as I mentioned before Wayne is such a good songwriter you cannot put that away. But, yeah this is also hard to answer as Wayne does the lyrics."
It's good to get another aspect from you today on the lyrics Wayne has provided…
"Yeah Wayne has written about certain situations and he has said 'this is what this is about'. Wayne openly say's ''I Can Sleep now'' off See Through Blue – came about whilst he was watching Afterlife with Ricky Gervais and watching the character's wife in the episodes recording from her hospital bed, videos for her husband says 'I Can Sleep Now'."
So that is where 'I Can Sleep Now' came from. I like that
"Yeah, I like the fact he can take a line and do that"
Yeah, we would have asked Wayne, but he is busy. But I love that you are filling in the bits that is cool. Thank you.
Have you had any fans come up to you and say your songs have helped them through difficult times – If so, how did that make you feel?
"Its, really touching. When you think it is your song that they are playing, it's quite emotional. We did have a gentleman from Holland (when we were V0Id) who was suffering from Cancer. Said one of our early songs helped him get through his Cancer treatment and chemo and he just connected with the song. And he is now a friend of the band."
Awhh, that is lovely, bless you guys
So just for fun:
''If you could be a member of any TV-Sit com, what sitcom and person would you be?''
"Chandler from Friends … cause I'll say something like "We…are…playing… IN… Swansea!!" (laughs)
''Describe 'your life' using one word?''
(Much laughter) erm…'Hectic' at the moment
That's probably very apt with the tour right now
Any final message or words you would like to share with PlanetMosh?
Thank you for the support and to everyone that has bought 'See Through Blue' And if you haven't caught us live please get a ticket and support us live.
PlanetMosh would like to thank Gary Doyle for his time in answering our questions today at The Waterloo Music Bar Blackpool, on their first day of tour 3rd March 2022
Tour Dates and band info here: https://scarletrebels.com/live/